Modiphius have made $254 worth of the 2d20 Conan RPG available across three different tiers at Humble Bundle.
As usual, this is a time-limited deal, DRM-free and with a percentage of the money raised going to charity. You can pick it up at Humble.
Pay £0.77 tier
Free RPG Day/The Pit of Kutallu
Players Guide
Character Sheet
Quickstart
Code to get 30% off Conan core book in print
Art of Conan
Pay £6.18 tier
Conan Core Book
Jeweled Thrones of the Earth
Conan The Barbarian
Gamemaster Screen + Gamesmaster Toolkit – PDF
Pay £11.59 tier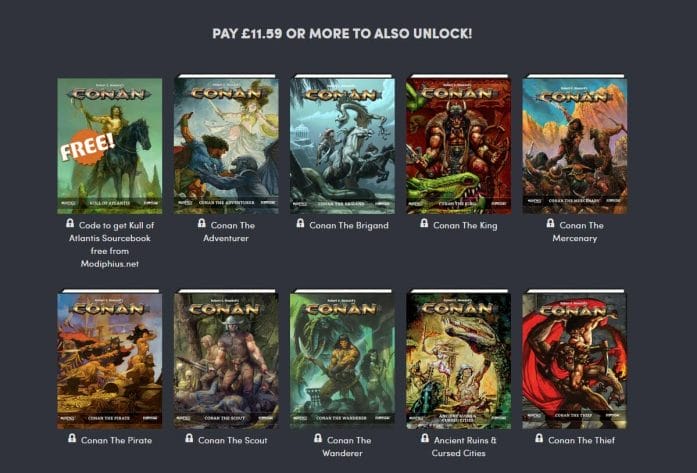 Code to get Kull of Atlantis Sourcebook free from Modiphius.net
Conan The Adventurer
Conan The Brigand
Conan The King
Conan The Mercenary
Conan The Pirate
Conan The Scout
Conan The Wanderer
Ancient Ruins & Cursed Cities
Conan The Thief
At the time of writing, over 400 purchases have been made with the average price of just over £10.
Conan: Adventures in an Age Undreamed Of is available at Humble for three weeks.
Visit the comment section below to share your thoughts.