What if the bad guys won? Take a Lord of the Rings-style setting and imagine the dark lord and his army and beat the humans, elves and dwarves?
That was the premises of the old D&D 3 campaign setting from Fantasy Flight Games.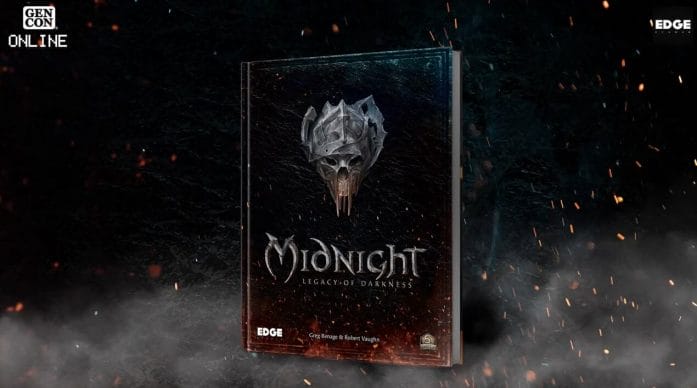 This year, Fantasy Flight got out of the roleplaying games business, and sister studio Edge picked up their Star Wars license, Genesys RPG and Legend of the 5 Rings. It's Edge, a publisher based in Spain, who is resurrecting Midnight.
The reveal came in a video interview between FFG's Evan Johnson for Gen Con Online and Edge's Roleplaying Games Manager Sam Stewart (previously FFG's Roleplaying Games Manager) at about the 10-minute mark.
Midnight, which has already had two editions, will not use Genesys. Instead, it'll use Wizards of the Coast's OGL and run on 5th edition. That's the D&D ruleset.
Asked why this was the case, Stewart offered up two reasons for not moving to Genesys. Firstly, Midnight's legacy has been with the D&D rule system, and there was the feeling at Edge that this should be maintained. Secondly, it would be easier.
We didn't get timelines for the project. In fact, Edge is still working to onboard Fantasy Flight Games' RPG assets and don't even have a website ready. The lockdown has made matters worse.
Stewart was also asked about "evil races". D&D has recently acknowledged the idea of "bad by blood" is wrong and issued a diversity in Dungeons & Dragons statement. Could this be a concern for good races versus evil races setting like Midnight?
It could be, acknowledged Stewart, but it was an issue they were already working to address. In fact, Legend of the Five Rings already works with sensitivity readers and cultural experts since that RPG draws so heavily on Asian cultures.
The same interview also revealed the strong likelihood of Edge Studios making a Twilight Imperium RPG with the Genesys system.
Do you have any thoughts on this article?