Warning: contains spoilers.
Conan (frequently known by such titles as "Conan the Cimmerian") is the muscled invention of author Robert E. Howard.
And while the 1982 film Conan the Barbarian helped propel his name to household icon status, he has also been a recurring character in Marvel comics since October 1970 with a debut issue of the same name. Conan has had an illustrious stay in Marvel, variously appearing in titles with his name as well as in comics such as Savage Tales.
He has even made cameos in titles like Avengers, Fantastic Four, and has been witnessed by the enigmatic Watcher character in the pages of the What If…? comics series.
But with such a long run, it's hard to imagine where to take the swashbuckling Cimmerian next.
Enter Conan 2099 #1 – released November 27th; featuring a no-nonsense, sword-wielding Conan looming over us in a classic executioner stance.
Rest assured that Conan 2099 is not a complete departure from the Conan that we love, but rather a continuation of the Marvel Universe's iteration last seen in Savage Avengers. Now in modern times, and cursed by the witch Morgan La Fey to live an unnaturally long life, the out-of-time character must find his place in a violent future and fight to hold onto everything that he knows.
This issue threatens us with a good time by weaving together the familiar and the speculative.
Conan 2099 is the older, King Conan version that has always been alluded to in print/art/media but never really given the center stage attention that he deserves. His being trapped in a future time opens up the possibility of blending swashbuckling and technological storytelling elements. And while future King Conan is a wiser and more experienced fighter, he has also made considerable improvements in other ways.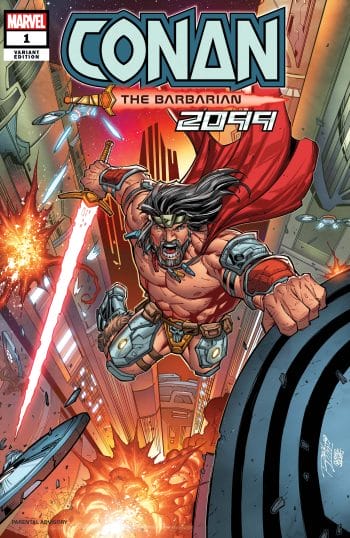 Not only have the weapons advanced (his iconic sword has been replaced with an energy-based one that looks very much like a lightsaber), but he has also been training in 'mystical arts' to combat his old and most-feared weakness: magic.
With his people and kingdom decimated, he becomes a vagabond until he comes upon a dying member of the Nova Corps. After taking the extraterrestrial helmet as his own, he goes on a quest that leads him to a Nova Corps base – and then eventually on a spaceship that then takes him off Earth.
With access to some Nova Corp technology, Conan's lethality has been enhanced to a level never anticipated. And with the freedom that space allows, the possibilities for exploration and old-fashioned Conan-style conquering have been amplified to the Nth degree.
This is ironically a return to the "planetary romance" style stories of Edgar Rice Burroughs, who wrote the John Carter of Mars novels in the pulp era and inspired some authors of that time (including Conan creator Robert E. Howard himself). It's almost nostalgic and reassuring to see that even in space and in the far future, a beloved and memorable character with such a studded past seems to still be in good hands.
After this one-shot issue, it's unclear exactly what will become of Conan. He may need time to explore, further experiment with this newfound technology, and do some deep soul-searching. He may come across travelers in need, become a king of an alien civilization, or encounter a powerful interstellar warlord that needs a good throttling.
Wherever Marvel decides to unleash him – by Crom – we can expect lots of action and adventure.
Jonathan E. Hernandez (@jhernandez13) is a Science Fiction writer who decided to pursue a career suited to his muse after an honorable discharge from the military. He lives in Astoria, New York with his partner, a cat named Jonesy, and anxiously awaits the debut of his first novel (ONE DAY AS A LION) this year.
What do you think? Share your thoughts below in the comment section below.