Amazon's Goodreads has announced the Best Books of 2019. It's a prestigious title to win.
This blogger has gone through four geeky categories and added up the votes. Those categories are Fantasy, Science Fiction, Horror and Graphic Novels.
Fantasy dominates with 327, 947 votes from the Goodreads community, and then Science Fiction just manages to secure second place with 223, 676 votes, edging out Graphic Novels that earned 212, 043. This puts Horror in fourth place with some 186, 471 votes.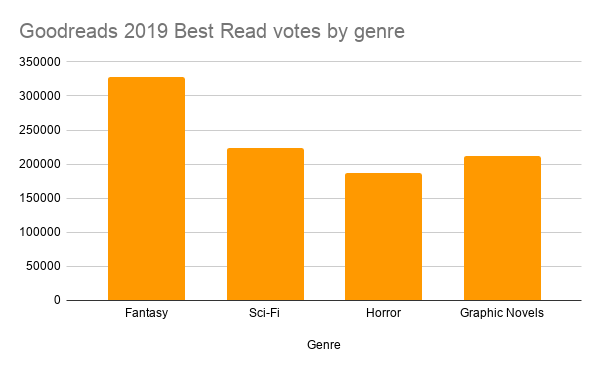 While Horror may be the least popular of the four geeky categories this post is looking at the most popular author is a Horror writer. Stephen King's The Institute was voted for 75, 717 times, significantly more than Leigh Bardugo's Ninth House which won the Fantasy section.
This interactive table puts all the top 20 books in each category into a single table so you can compare and contrast. The toggle at the top right lets you add or eliminate categories as you see fit. Full-screen mode is activated by the square on the bottom right.
Absolutely! There are other geek-worthy categories in Goodreads list, but these are the four I had time to analyse today.
Leave a comment below and join the Geek Native community.