While there are certain things that remain the same at every Comic Con (lots of cosplay, trailer releases, long lines, etc.) each convention is also quite distinct from the last. Each year, there are certain franchises, merchandise types and costumes that dominate the convention and make it a unique butterfly of that year's pop culture favorites. Here are ten of the biggest trends seen at this year's Comic Con.
Guardians of the Galaxy Costumes
So far, this year's two biggest summer blockbusters have been Guardians of the Galaxy Vol. 2 and Wonder Woman, so it's no surprise there were plenty of cosplays from each of the films. While there were plenty of serious GOTG costumes, the silly nature of the film led to some pretty fun cosplay as well. This mashup featuring Yandu and Rocket as Mary Poppins and Bert was in the masquerade and it might just be one of the silliest Guardians cosplays ever.
Wonder Woman Cosplays
It should come as no surprise that Wonder Woman was one of the most popular costumes at the convention, but one refreshing detail was the sheer variety of the cosplays. There were Dianas in her warrior training attire, in her formal gown -complete with a sword down the back, in her classic television uniform, in the armor from the new film, in sexy lingerie and in plenty of mashup costumes too. While there have always been a decent number of Wonder Woman costumes in the past, they've by-and-large been cheap Halloween costumes you could buy off the rack. This year, the cosplayers (including many Wonder Men like the gentleman pictured here) really stepped it up.
Pins and Patches
Tee shirts, hats and bags have always been available at booths all over the convention, making Comic Con a great place to refresh your geeky wardrobe once a year, but this year there were two more notable additions to the accessories being sold -pins and patches. It seemed like there were almost as many booths selling acrylic pins as there were tees and in many places (like the Bob's Burgers booth), they were selling out twice as quickly. Pins, in particular, are so hot right now that SDCC even sent out their badges with a collectable 2017 San Diego Comic Con pin and the giant bags given to all attendees upon arrival were also equipped with a superhero pin.
The hauntingly cute pins and patches in this picture were sold by Rhode Montijo, creator of The Halloween Kid book series.
Moana Cosplay
Moana was Easily the most successful kid's movie over the last year, so it was no surprise to see Moana, Maui, Te Fiti and other characters all over the convention. The Te Fiti costumes were particularly impressive because while it's easy enough to dress as a muscular tattooed demigod or a teenage girl determined to save her island, portraying the plant-covered island goddess of life isn't so simple.
Marvel's Inhumans Plush Dog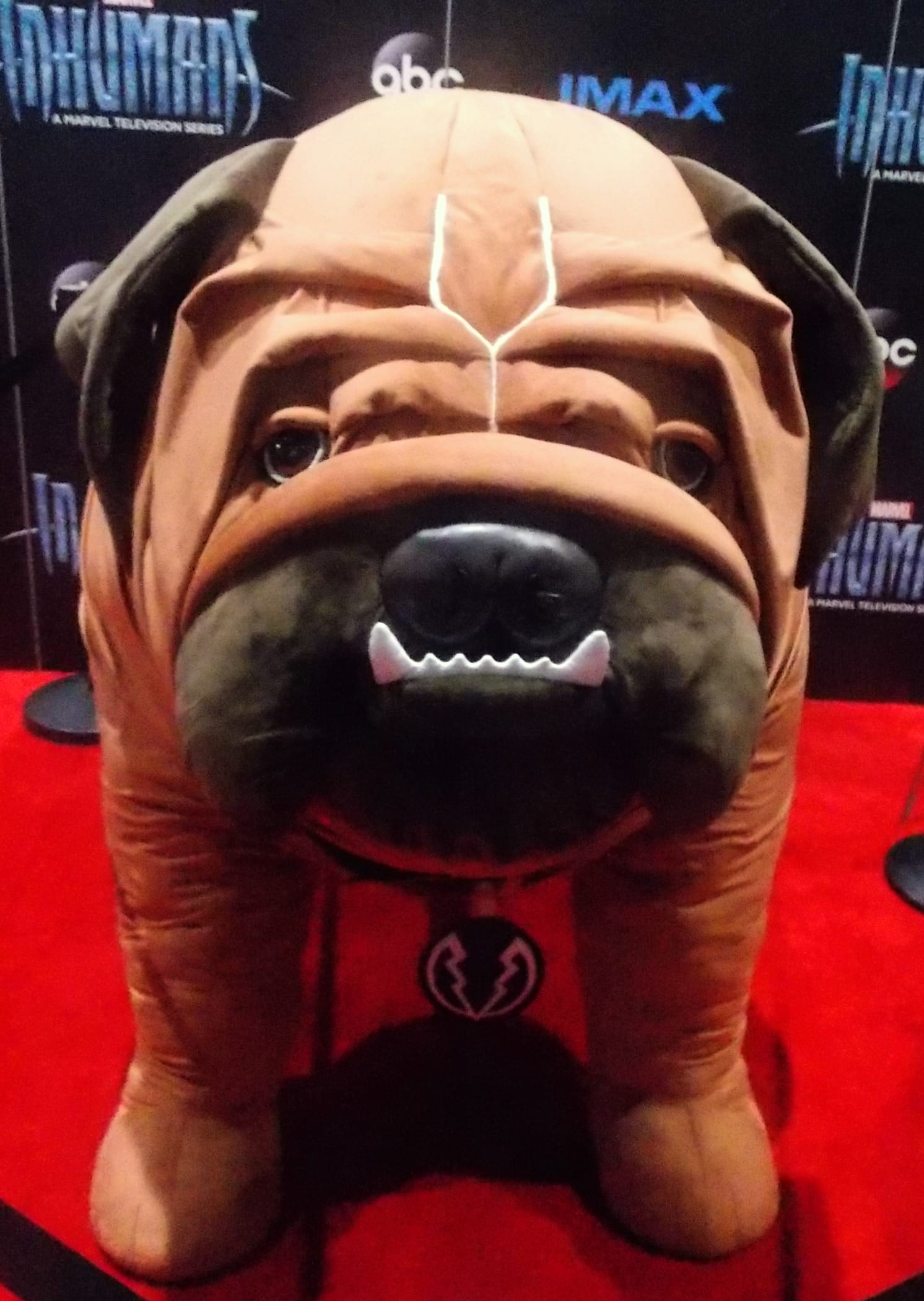 There's almost always some toy at the convention that is so popular you see people carrying it wherever you go. Usually it's sold by either one of the big toy companies or is a Japanese toy being sold at the many booths specializing in imported treats, but this year, the biggest toy at the convention was actually sold at the Marvel booth and was created as a promotion for the company's new ABC show, Inhumans. The big burley dog known as "Lockjaw" in the comics was not only a popular toy, but also as a photo prop and this jumbo version was rarely left unhugged throughout the weekend as visitors squeezed his neck for a picture.
Terrible Rick and Morty Costumes
Rick and Morty has one of the biggest fan bases at the Comic Con, but it's strangely difficult to do a good cosplay of the characters -so instead fans have largely chosen to go the other way and do terrible cosplays of them. It seems everywhere you look, there's someone walking around with a lab coat and a blue wig. Some paint or glue on blue eyebrows, some carry a portal gun or flash and some have a Morty with them (which without Rick just looks like someone in a yellow tee shirt and jeans), but no matter what they happen to add on to their costumes, they pretty much all look half-assed and stupid, which honestly works pretty well for the show's theme.
On a side note, if you're wondering what a good cosplay from the show could possibly look like, this is the one example I found of an impressive Rick and Morty character costume.
(Younger) Kid-Friendly Booths
There's always a lot of stuff for kids to do at Comic Con, but usually there isn't much for those under 3 to do on the exhibit hall floor. This year was different and there were plenty of booths that seemed specifically designed just to attract the attention of this of those young visitors. From toys to coloring areas, the booths had all kinds of ways to entertain the kids and a few even brought tiny cars like these for the children to sit in (though obviously they weren't allowed to drive very far with their new wheels).
Casual Cosplay
It's hard enough to actually custom make an epic costume, but then to actually wear something encumbering and hot while you walk around all day at a convention is just asking too much for some people. That's why a lot of people have turned to casual cosplaying, where they custom make a cute, comfortable outfit based on a character (or a whole franchise) and then wear that to the convention. The two most common forms of casual cosplay creations, dresses and kigurumi (oversized onsie pajamas), are both pictured here in a cute take on the aliens from Toy Story.
Tyrannosaurus Costumes in Costumes
These stupidly entertaining costumes have been blowing up on YouTube (most notably the video of an impressive attempt at American Ninja Warrior) so it shouldn't be all too surprising that some of these delightfully dumb-looking dinos also made their way to Comic Con. Best of all, the dinosaur costumes were disguised in other costumes, and aside from this Waldo, there was also a Deadpool, some Jedis and a Batman on the floor (and likely others that I didn't happen to cross paths with).
Harley Quinn Cosplay
Harley cosplays have always been popular at the convention -even before Suicide Squad was released and since then the have probably been twice as many. In fact, there were still just about as many Harleys as there were Wonder Women costumes, which is saying a lot since the runaway success of the Wonder Woman film meant you literally couldn't go anywhere without seeing a Diana somewhere. This roller derby Harley was a particularly fun example.
These are the biggest trends I noticed this year, but I'm sure other attendees noticed different things than me so if you were at the con and think I missed anything, feel free to share any trends you saw in the comments.
Looking for the comment section? It's just below.