I'm impressed by the technology and the format of Cubus Games' SOL INVICTUS. This is a book for your smartphone or tablet and headphones are recommended. You can pick it up on Google Play or Apple's App Store. There are iPhone and iPad versions available for the latter.
As it happens SOL INVICTUS is the sequel to Kyle B. Stiff's Heavy Metal Thunder. I've not read that. I just dived straight in. I think anyone could.
The background is simple. Mankind has lost Earth to the invaders but have pulled together, over time, to form a resistance movement. You play/read as a character from the Human Fanatic side who has lost his memory, but battled through to warn the humans of great danger (the first book) and are now on a mission against the invaders.
If you've read any Fighting Fantasy gamebooks or their paperback clones then you'll know exactly what's going on here. You read a bit, make a decision and then read a bit more. Your decisions effect the plot.
Technology has come on in leaps and bounds since the original Fighting Fantasy gamebooks and this is where Cubus Games has done so well. For a start, the app remembers your state so you don't need to worry about keeping track of ammo or your health. Those matter, just in an old fashioned "turn to page XX" adventure books you can make decisions or encounter situations in which your character has to fight or die.
The ebook has a dice roller of its own. Two dice symbols flash at you until you click. It's not quite the same feeling as rolling real dice but good enough and perfect if you're reading this game on a plane or the train.
There are two types of sounds. There's constant background music. You can switch that off if you like but I found it nicely atmospheric and left it on. There's also separate special effect sounds. There's art as well. You can see plenty samples of it in this review. I guess there's two types of art as well. There's the decoration art that gives the gamebook its strong look and feel but then there's also character art that you'll discover as you read through the adventure.
All in all the set-up is impressive. I really think Cubus Games should investigate opening up their technology as a platform, a bit like StoryNexus, and making it easy for RPG publishers to use their system. I'm sure a revenue split would work well especially as there's the ability for in-story purchases.
Aah, but wait… what about the story itself?
I've mixed feelings on this. I don't think I suffered from skipping Heavy Metal Thunder.
The first thing you'll notice is that the names of characters are silly. Your character is called Cromulus. In just a few pages you'll meet a character called Wolf Tits. You really will.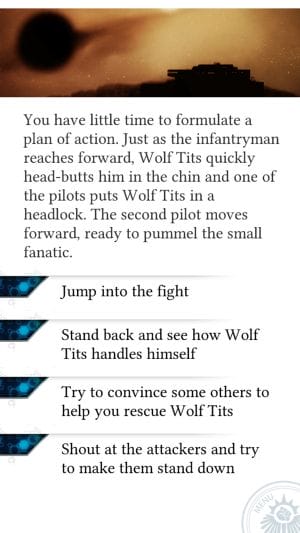 I'd describe the writing as "good enough". It's actually very hard to do; imagine writing a book in thousands of tiny slices, some of which are interchangeable, some of which stack and others which are completely isolated. I think it would wear me down. A rating of "good enough" is pretty good; it means that once I got into the swing of the adventure the writing quality stopped being an issue for me. I'm not a grammar Nazi though. I know writing quality really bugs some people. If that's you then I fear SOL INVICTUS might not quite live up to your expectations and you won't want to meet Wolf Tits.
More important than the writing finesse for me was how the game met the story elements. These two seem easy to balance but aren't. In a story bad things happen to characters and that carries the story on. It adds layers of drama and interest. If bad things happen to characters in a game then that can end the game. Game over. Start again. In fairness, some Fighting Fantasy books had this problem. I certainly got fed up of the labyrinth in the Warlock of Firetop Mountain.
I'm pleased to say that SOL INVICTUS does pretty well here. I failed all of my initial rolls and found myself in a fight and locked up in the brig. The result? The story continued and the game balance made appropriate adjustments.
I think SOL INVICTUS should be given a chance. It's not free but it's cheap. On Google Play you can get your money back if you change your mind within 15 minutes and that's all it takes for you to determine if you'll like the adventure or not. It's worth a try because I really do think we might see more of this sort of interactive gamebook in the future. We should.