Our Irregular Reconnaissance column goes some way to solving a problem many geeks talk about. The problem? What titles are fellow geeks reading and enjoying?
Okay, true, this column doesn't talk for all geeks but it is my chance to share what I've been reading, liking or disliking. Learn from my mistakes.
Code Monkey
Episodes: 1 & 2 (Comixology | TFAW)
This was a gamble. I loved the song and was lured in by the Kickstarter. Hands up; I don't know the comic book side of the team at all and if there are any in jokes I'm missing them. Beyond the disappointment of code monkey actually being a monkey – which dampens on the self-depreciation the term has, this series is doing well.
This is the random chaos of super powers injecting themselves on to your daily life. Suspend disbelief and enjoy.
Status: Keep on reading
Creator Owned Heroes
Episodes: 1 to 8 (Comixology | TFAW)
I dug this up looking for something different to read. What a find. Okay, there's a little too much padding in the comic books in terms of wordy interludes between sections – fine, maybe they're interesting but I wasn't in the mood. I wanted the comic book goodness.
Creator Owned Heroes is packed with comic book goodness. You've an anthology of short comic book adventures (stretching over a couple of books each) and each one is a cracker. Getting fed up of the usual Marvel or DC? Try these guys.
Status: Read the series, loved it; recommended.
SideChicks
Episodes: 1 to 4 (Comixology | TFAW)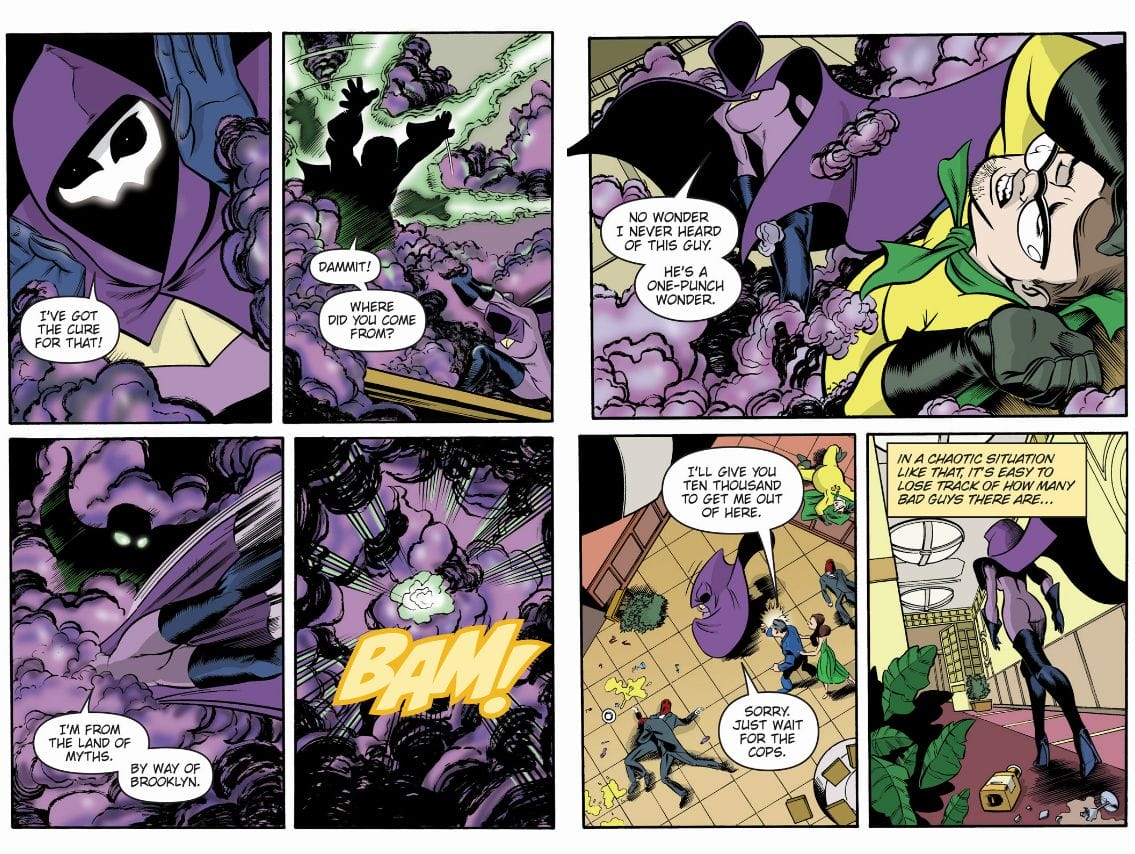 Hand on heart; I don't recall the mood I was in when I decided to download the first SideChicks. It's possible I was still on discovery high after finding Creator Owned Heroes and willing to overlook a silly name.
What this series delivers is no more sexist than Marvel or DC superheroes in tight suits but feels like a far better look at life as a female superhero, actually making the tough decisions and ignoring the idiots.
Status: Surprisingly, recommended.
Infinity
Episode: 2 to 5 (Comixology | TFAW)
Whereas I may not be enjoying DC's big events all that much – Infinity is working for me. This manages to be a cosmic level event, yet real, yet engaging and somehow personal.
A particular favourite in this series is how the Universe now accepts Earth as a do-not-bother planet. It's not worth it. It doesn't have the tech. It does have a legion of superheroes who'll kick your butt. Of course, Infinity works because it questions whether or not the combined forces of good really could deal with a properly aligned and intelligent alternative force.
Status: Sticking with it.
Green Lantern
Episodes: 24 &25 (Comixology | TFAW)
I like the direction Robert Venditti is taking the series. It feels very much as if the Green Lanterns are on the back foot. People are making choices – and they may not be the right one. I even get the feeling that the whole spectrum of colours for emotions-that-are-not-emotions might even be in for a rewrite.
I suppose my only concern would be the wave after wave of bigger guns. Hard to imagine that the third army turns out to be little more than a footnote in the history of things and the big bads aren't really that impressive at all. Nevertheless, looking forward to the next one.
Status: Mood improving, sticking with it.