The BAFTAs are always worth tracking even if, like me, you really don't have much time for awards.
Why? The BAFTAs are like a look ahead to what will be popular, what the Oscars migh do and the culture vultures might be in to. It always pays to be ahead of the buzz.
This year it's worth checking out Orange Film Pulse too. They've a nice little site that is tracking some of the social media elements for the films – leading with the Artist. I rather like the idea. I find Twitter to be a better critic than many of the professional critics. Professional critics seem to be ruined by their need to maintain status as professional critics.
I enjoyed The Artist. Okay; the trailers before the film nearly killed me as I had to endure pitch after pitch for movies aimed at emotionally insecure wrecks with life expectations set by Heat magazine – but once The Artist had started and was safely under way I was happy.
The Artist and stars are up for Best film (against Drive, Tinker Tailor Soldier Spy and others), Best director (that's Michel Hazanavicius), Best actor (that's Jean Dujardin), Best actress (Berenice Bejo), Best original screenplay (Hazanavicius again), Best original score (Ludovic Bource), Cinematrography (Guillaume Schiffman), Editing (Anne-Sophie Bion and Michel Hazanvicius), Production design, Costume design, Sound and Make-up and hair! Phew! That's a lot. It's perhaps no surprise that Orange's web efforts include The Artist as a headliner.
However, there are concerns that French star Jean Dujardin may have put his BAFTA, perhaps even Oscar, at risk.
Dujardin's latest movie is a sex comedy – Les Infideles – and advertising authorities have asked that the posters for the movie are taken down. Why? They're degrading to women.
Do you agree?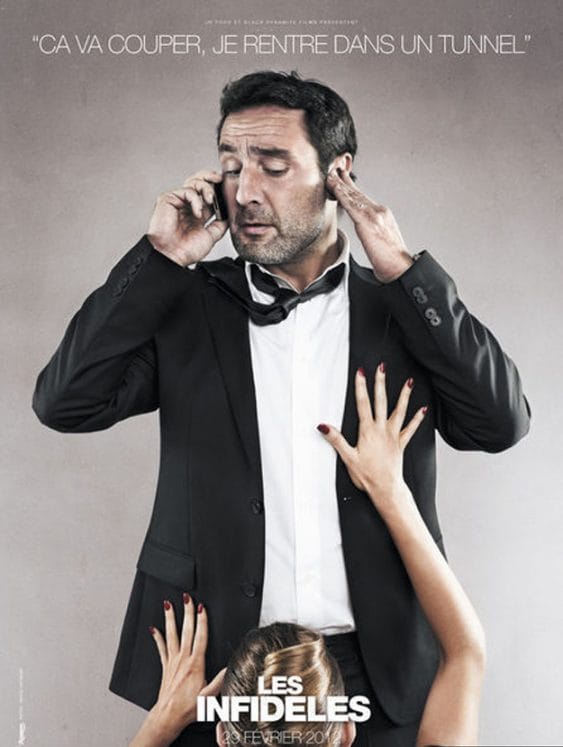 The timing isn't great. It feels as if we're still very close to the whole Dominique Strauss-Kahan as the most famous Frenchman in America thing. We're yet to see if the British tabloids swoop on this story and make an issue of it.
I feel that would be a shame. Dujardin isn't the poster designer. He was great in The Artist. I hope both The Artist and Tinker Tailor Soldier Spy do well.
Who will you be backing?
Disclaimer: This is a Sponsored Post.