This is a well written and beautifully drawn book that fills the gap between the Batman computer games. Paul Dini and Carlos D'Anda have done really well.
It's hard not to be a little frustrated by Arkham City. It is good but its role is to line up the Arkham City computer game. It's a bit like going out on a fantastic date only to miss out on coffee awards.
The graphic novel picks up with Joker suffering from the effects of Titan. Titan, simply put, turns people (or super villains) into Bane like muscled brutes but there's a cost. In many ways this Batman story takes us from Arkham Asylum to the creation of Arkham City.
Arkham City is more-or-less an overflow for the Asylum. It's a walled off area to try and contain the trouble. I may be prone to over examining this sort of thing but I did detect the faintest whiff of political commentary here – after all, in the middle east we do have the situation where one group of people is attempting to wall off another. Batman is not keen on this approach. In fact, he thinks the failure of the approach must be the ultimate goal of the criminal mind behind it.
Arkham City is home to dozens of the best Batman villains. We meet Two-Face, Joker, Penguin, Harley Quinn, Poison Ivy, The Riddler, Bane, Catwoman and perhaps most important of all – Hugo Strange. Strange is the power behind the scenes in the story – he is the force that gets Arkham City built and populated by competing villains while building a private army.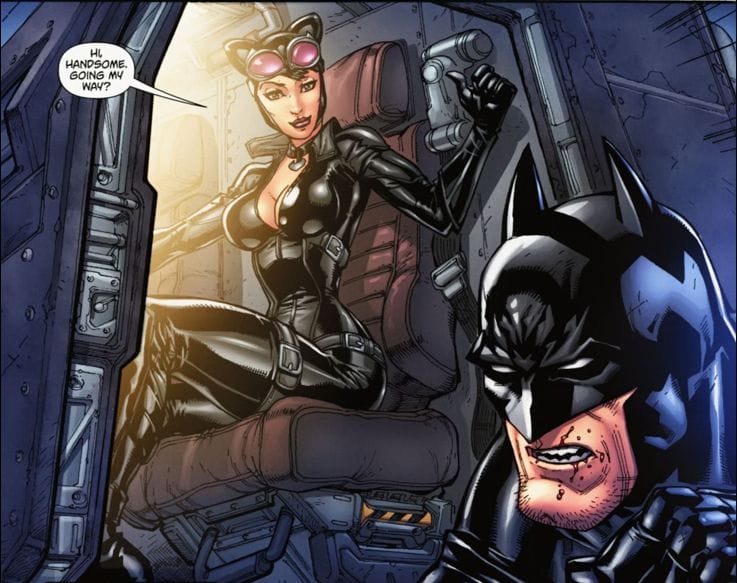 One of the Batman mythos' strongest quirks looks to be hugely important here. There is a network of alliances and competition in the main characters. Catwoman and Batman have their unique relationship. The Penguin and The Joker do not get along. Two-Face might, sometimes, help the Bat. Poison Ivy's logic doesn't quite work like ours. Harley is devoted to The Joker and yet Robin may not always follow Batman's script. The idea of this network of tension being locked away behind a town-sized jail in Arkham City is a promising one.
The art in Arkham City is fantastic. I love it. It's both dark and broody and yet bold and exciting at the same time. If the goal is to encourage the reader to throw themselves headlong into the computer game then Carlos D'Anda hits a homerun.
I recommend Batman: Arkham City the graphic novel. It might feel as if it doesn't finish, in many ways it does not finish – it simply sets you up for the start of another story – but it's still an exciting and worthy read.
My copy of Batman: Arkham City was provided for the purposes of pulling together a review.
Share your thoughts with the community by adding a comment to this post.