One way to get attention is to call out cheaters and what's what Nationwide Vehicle Contracts have done.
Firstly, I'm happy to call a spade a spade and acknowledge this as a marketing stunt. Secondly, I liked the methodology, so here we are. Lastly, it looks like NVC is about long-term rents of cars and vans.
United States – home of GTA cheats
We're looking at this now because GTA 6 is probably coming even though I don't see it on Amazon yet.
The USA ranks first, followed by two surprises – New Zealand and Ireland.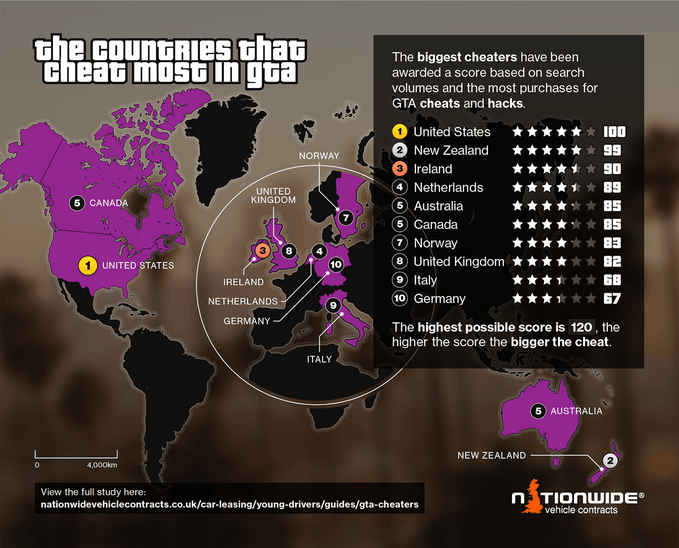 Who's hyped for GTA 6?
It's the Netherlands, followed by Blighty and then Germany. Here's my question; why do the top cheating countries care enough to cheat but not enough to get GTA 6 excited? A winning mentality?
GTA 6/cheating metholody
Having hyped the methodology (which is explained in the car site), I'd better try and summerise it;
NVC examined Fiverr reviews of 791 GTA services, excluding artwork and other non-game-related services, to find the countries that cheat the most on GTA. The index score included per-capita reviews from each country. We used keywordtool.io to analyse Google search volumes per capita for "gta 5 walkthrough," "gta v cheats," "cheat codes," "money glitch," and "gta5 hacks" in 20 countries, changing the language as needed. NVC weighted these scores and added them to create an index of GTA cheat and hack buyers and searchers.
NVC used keywordtoo.io to calculate the average monthly search volume for "GTA 6" per capita and ranked high to low to find the countries most excited about GTA VI.
NVC scraped and analysed all game-hacking scripts from https://www.gta5-mods.com to find popular GTA V mods. We used El Dorado data to determine the most popular cheats and hacks purchased by players and their prices.
Quick Links
It's the internet! No doubt someone has left insightful and witty comments. Check below.