🐙Sponsored Post paid for by Geek Native. We may earn a commission on sales.
While checking my radar for geeky retailers with exclusives, I got a ping from this Fun.com Scarlet Witch POP! We have Wanda in her Doctor Strange in the Multiverse of Madness phase, and she glows.
Where are you on your POP! cycle? Still buying, overbought, or wondering what all the fuss was about?
It feels like just yesterday. I was wondering what Funko could do to turn it around. They had tried to diversify, but the fashion which had grown them so well was beginning to wane.
Certainly, the finance tickers show a dramatic share price drop before Christmas 2022. The company seems to be slowly fighting back, though, and the 2020 bottom was lower before dramatic gains in 2021.
My main thought for Scarlet Witch is that a glowing POP! is a neat idea, and it strikes me as a great way to get more display value from your collection and transform your room in the darkness of a TV screen-lit night.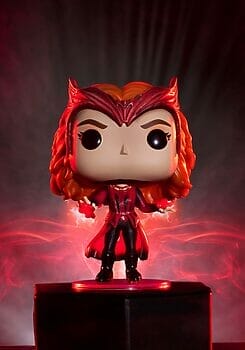 Fun.com is taking pre-orders now, expects the model to be on sale by the end of March, and limits how many people can buy. Sure, you can buy a lot but can't buy them all.
I also think this mini backpack also looks pretty neat, but it's the photography that ads the glow, despite those two blaster bolts on the design in such a clever 3D twist.
The History of the Scarlet Witch
The Scarlet Witch, also known as Wanda Maximoff, is a fictional character in the Marvel Comics universe. She was created by writer Stan Lee and artist Jack Kirby and first appeared in X-Men #4 in 1964.
Wanda is the daughter of Magneto, the master of magnetism, and his wife, Magda. After being orphaned at a young age, Wanda and her twin brother Pietro, also known as Quicksilver, joined the villainous Brotherhood of Mutants before eventually defecting and joining the Avengers.
Wanda can alter reality, a power that has caused her to be both feared and revered throughout her comic book history. She has also been a critical member of the Avengers, serving as both a hero and a villain at different points in her career.
One of the most significant storylines in Wanda's history is the "House of M" event, in which she uses her reality-warping powers to create a world in which mutants are the dominant species. This event has had lasting effects on the Marvel Comics universe and has been referenced in numerous storylines since its publication.
Quick Links
You can find thoughts and opinions on this article in the comment section below.