A ramen bowl isn't just a regular bowl reserved for noodles, as there's typically a clever design to rest your chopsticks.
I don't claim to be an expert, but Google reveals the following pieces of ramen and chopstick etiquette that I think My Hero Academia can help solve.
Always hold your chopsticks correctly – hold the upper chopstick between your thumb and index finger, and the lower chopstick between your middle and ring finger.
Do not rub your chopsticks together, as this is considered bad manners.
Use the chopsticks to break off small pieces of food rather than trying to pick up large amounts.
When you finish eating, return your chopsticks to their original position on the chopstick rest or the bowl. Do not stick them in the bowl.
How can My Hero Academia, that global anime success, help? Coming to us via
As for this set of chopsticks and hero/ villain bowls, Fun says;
Well, whether you fight for good or for evil, you still build up a big appetite. Now, you can enjoy your favorite food out of a bowl that matches your mood. Grab this exclusive My Hero Academia Heroes & Villains Ramen Bowl Set and enjoy a delicious helping of noodles with your favorite anime characters!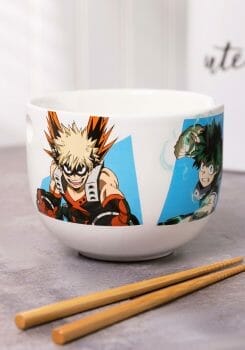 I don't see the dread of 'not suitable for microwave' or 'not suitable for dishwasher', but it's a slight fear. I do see this Godzilla bowl, and that's a strong temptation!
Quick Links
Nothing to add to the comments? Pop over to the chat portal and see what's going on elsewhere in the site.