🐙Sponsored Post paid for by Geek Native. We may earn a commission on sales.
Flipping the birdy? Giving the finger? Throwing a unicorn first?
I know; it's not clever, but it is memorable! If you've got the nerve to wear this to the neighbour's party, it'll be a memorable night!
I found this on Amazon, where the merchant describes it as 42 cm by 25 cm by 20 cm, and I take that as one-size-fits-all (or else).
The finger, by the way, is non-toxic and water-proof. GrocyXu, who makes the mask, say the natural latex is very easy to clean. They also say this mask suits many parties, such as Christmas. So, mhmm, maybe take what they say with a pinch of salt!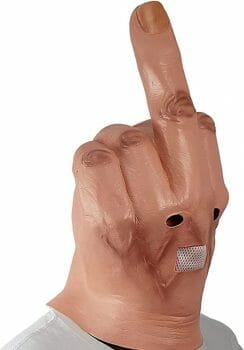 Quick Links
It's possible you don't like this mask at all! Shocker, I know. You can try a random alternative by risking this teleport link! Dare you?