🐙Sponsored Post paid for by Geek Native. We may earn a commission on sales.
I love how tabletop gaming accessories have become works of art and craft to admire.
Etsy boutique Geekwood has a star rating of 4.9/5 after nearly 800 reviews and over 3,000 sales. So, yeah, they're doing something right!
My favourite is this wooden dice vault, tray and tower because I like how it all packs up. The result is a mysterious wooden box with graceful lines but no other prominent decoration that can then look mysterious on your shelf or bookcase!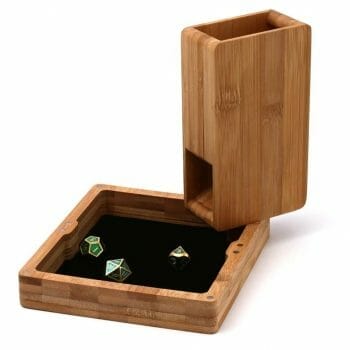 There's only one available, at least at the time of writing, and it's not cheap. This crafted hardwood comes in at 18cm by 16 by 7 and will cost over £130 before shopping.
Geekwood is based in Canada but will ship to me here in the UK if I succumb to temptation.
One customer said;
GORGEOUS!! Everything is so well-made and precise. My partner absolutely loves it. It came very quickly, even after having to cross the border from Canada to the US. The seller was so wonderful to alert me to when it was back in stock as well. All around stellar experience!
The tray has soft velvet padding and a dice tower fits on the edge so that the dice tumble out safely. The whole structure, when not in mysterious box mode, is held together by powerful magnets.
Quick Links
What do you think? Let us know in the comments below!