On DriveThruRPG both the 116-paged 6083 Player's Manual and the 138-paged 6083 Game Master's Manual are free to download. Not Pay What You Want, but priced at $0.00 each.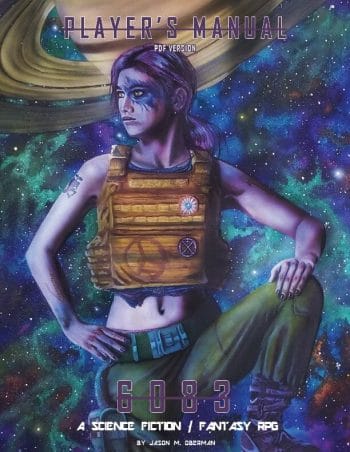 Both digital books have recently been updated, and each published within the year, but neither are new. This isn't a post about a new sci-fi RPG, and 6083 has been around for a while.
In fact, you might well be surprised and could even impress geeky gamer friends with knowledge of just how old the 6083 RPG is. The game is 38-years old.
I had the chance to speak to Jason Oberman who is both the founder and the designer of the project. Jason's also the artist and primary editor on the project, and it's a labour of love for him.
How would you describe the setting for 6083?
It is the far future. A time in which Humankind has taken their place in the galaxy as an equal participant in galactic society. Player characters are military operatives tasked with peacekeeping, search and rescue, exploration and diplomatic duties.
When did 6083 stop being homebrew and become something more published?
Only recently. It has been published for four months now, but the move to go public started about two years ago, due to player demand.
Do you consider it a professionally published RPG? Is that on the cards?
Yes, but it is still a work in progress. It's not polished just yet. There's still a ton of illustrations needed, and layout adjustments that still need to be made. The rules ARE complete and fully playable, but until I am satisfied that it is its best presentation​, I won't publish physical copies. Once everything is as polished as I can make it, I'll enable POD and release the full color version. I'm shooting for a physical and POD release before the end of this year.
How can an RPG from the early 80s not be considered old school?
It certainly has an "old school" aesthetic, but it also has a lot of modern conventions too. It's not based upon D&D or any other property during that time, and I understand that is a big factor for games that carry the "OSR" banner. I suppose it depends upon your viewpoint. I feel like the OSR community would say that it's too modern, but it definitely does have it's roots in the 80's, and it does have that "feel." Its development spans the 1990's and 2000's too though, and I feel like it includes enough unique and newer concepts that it is more of a hybrid of old and newer ideas. Born in the 80's but upgraded for modernity. 
Why are you unlikely to do a Kickstarter?
Kickstarter campaigns usually are done to fund art, layout and editing services. Since I'm handling all of that internally, I feel like it would be unethical for me to charge the public for something that is already happening anyway. 

Also, we are still building this community: even if we did a campaign to cover printing costs, there's not enough awareness yet to successfully fund something like that. If this changes and enough of the 6083 community requests a professional print run, I might consider it- but mainly just to cover printing costs. There is an expansion planned though, and that probably WILL have a Kickstarter campaign. 
Why are you allowing such a large and thoroughly tested RPG a free download?
The free PDFs for the manuals are there to build the community and allow new players to try out the system. But since art and layout are still getting adjustments, I didn't feel right about charging the community for a product that is still a work in progress. 

I've also made a commitment to keep these PDFs free so that everyone has an opportunity to play this game. I felt that making the three core manuals free was a necessary sacrifice. However, once layout is finalized, POD copies will become available. 

The POD versions will be in full color and do contain additional content as well. Physical copies and POD will have a price tag. Mission adventures will also be purchasable. But I feel strongly about making the core experience ​accessible to everyone: I really want to share this game with the larger community and I'd prefer that it get played as opposed to sitting around on a hard drive. Keeping the base game free assists with this goal. 

Any profit I make down the line will be from the physical products and missions.
There's some nudity in the fine art section on Mission Control 6083.com. Would you consider 6083 to be an especially adult RPG?
The fine art that contains nudity is unrelated to the game: I'm a fine artist as well. However, nudity is something that I don't shy away from. While the 6083 GAME doesn't contain any explicit nudity, there are some images that could be considered ​risqué. I would say that the game is probably aimed more at an adult audience though, for sure. 

I don't think there's anything in the manuals that is particularly controversial, but this depend s upon one's point of view I suppose. 
Your official dice are now available. Why did you decide the game needed dice and why did it take so long to get them made if so?
This was a "want" as opposed to a "need:" I have always wanted to have officially branded and themed dice for the game. Call it a childhood dream come true. I hadn't considered this as a possibility​until only recently, so that is why it's taken so long to make this happen. 

I will say that most players probably won't need the dice, but they are there for the fans. The set of 3D6 might be helpful though since they are set up specifically for running 6083's combat: optimally you need 3D6 of three different colors, and these also have the game's logo on the #6 faces.
How difficult is this game to get into and run?
This game is really easy for players to learn, but there's some complexity when it comes to being a GM. However, there's also a set of quick-start rules that are included in the GM's manual. This makes it much easier to get started and it reduces a lot of the crunch so that it is easily manageable. I think that even new GMs should be able to run a session of 6083 if they start out using the quick start ruleset.
Who is this game for?​
It's for fans of science fiction who want something a little different than what's out there. This is geared towards fans of movies like Aliens, Firefly, Starship Troopers, The Fifth Element, Wing Commander, Stargate, or even Star Wars. But it has its own lore and identity that has been developed through decades of gameplay and community interactions. Combat runs fast and smooth at the table, it doesn't take itself TOO seriously, and it has a wealth of character options.  
If you love science fiction but want to really dig into a unique universe that you haven't seen before, I feel like this game might be for you.
Quick Links
Use the comment box below to leave a helpful comment and earn some geek cred!