🐙Sponsored Post paid for by Geek Native. We may earn a commission on sales.
Geeky retailer Zavvi has a Marvel exclusive in the weaponised form of LEGO Thor's Hammer from the Infinity Saga set.
Weirdly, the first thing I thought was, "Oh, is that a dice-box?" but I think that's due to the picture showing an open hollow inside. Then I noticed the 18+ age recommendation for the building challenge.
Don't judge a book by its cover, but here I am evaluating exclusive superhero LEGO deals from all sorts of strange signals.
It's a big deal of a hammer and will just you back more than £100, and that's probably another reason why it's not toddler safe.
There are 979 pieces, and the final build will e 46cm high and 29cm wide if you get that far.
The set comes with a stand, information plate and even a minifig Thor with three small-scale models.
Zavvi, who seem to offer every payment instalment plan known to humanity, say;
Celebrate Marvel Studios' Infinity Saga with LEGO Marvel Avengers Thor's Hammer (76209) set for adults. This authentic recreation puts the power of Thor's hammer into your hands. Designed with epic scale, impressive detail and iconic elements from Marvel Studios' movies, this premium display piece will adorn your home or office offering an interesting conversation piece.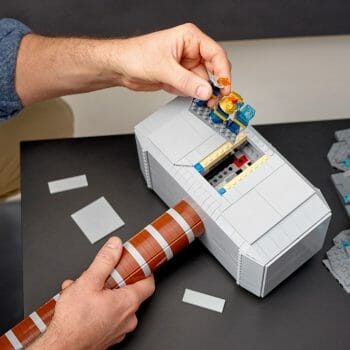 Quick Links
Do you have any thoughts on this article?