Tribe 8 is a post-apocalyptic RPG from Dream Pod 9 published in 1998. Designed by Phil Boulle, Josh Mosqueira and Stephane Brochu.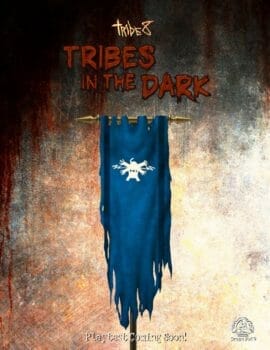 The game is set in Vimary, which is the remains of Quebec. It features exiles from beyond the River of Dream who are now trying to form their own tribe. That's right; Tribe 8. Rivals are Z'bri, demons that need flesh and which harvest humans.
It's a dark game. I've fond memories of it.
The second edition is on DriveThruRPG as a bestseller.
Dream Pod 9 have announced a new edition.
The new game line will leverage the Forged in the Dark system to bring more player agency and narrative focused play to the beloved world of Vimary. With planned conversion appendix to allow use of the older Tribe 8 books with the new system.

The DP9 external design team consists of longtime fans with a deep knowledge of the game's lore combined with extensive design experience. They include Wil Hutton (lead writer), Logan Rollins (setting writer & outreach), Oscar Simmons (producer), and Chris Czerniak (project manager). Wil has years of experience running Tribe 8, as well as Forged in the Dark games, and has maintained a long-running game design blog focused on Tribe 8 and narrative games in general. Logan hosts and produces The Story Told RPG Podcast, and has experience with Tribe 8 as well as World of Darkness games. Chris is a regular on several convention circuits, and has run some of the earliest iterations of Tribes in the Dark. Together, they are working to capture the visceral world of Tribe 8 within the contemporary framework of Forged in the Dark.
A quick start playtest is expected soon and will be announced by Dream Pod 9's social media.
Find out what Geek Native readers say about this in the comments below. You're welcome to add your own.