Do you ever use dice as markers on your tabletop? Are some games of Dungeons & Dragons ones where a shiny green d20 actually represents the bush a goblin might be hiding behind? Perhaps the d8 is the goblin?
This Mushroom Dice project, slated to go live next week, might well be of interest!
Earlier this year, a campaign for mushroom dice was cancelled on Kickstarter. Designer and GM Louis Cassidy-rice had done the clever maths, the schema and figured out the production. There was a way to make models, models of fantasy mushrooms, that were also dice.
Why did it cancel? The complex dice were too expensive. It was £55 to buy a set. I also worried that they might be hard to read.
Louis is at it again; there's new mushroom dice coming, they're cheaper, and I'm reassured they aren't hard to read.
I don't need any more dice! So why am I tempted by weirdly shaped spinning mushroom dice? I wanted to ask Louis.
What's the fascination with dice?
I think it's safe to say I am about a medium dice goblin. Like I talk about in my campaign, most of my set-up is handmade on the cheap. However, I have many sets of dice.

I only say medium dice goblin because there are many more sets I wish I could own, and I have friends with far greater hordes than my own. I realised I was using my spare dice as tree markers or as enemies during our games, and I wondered whether there was a way to combine to make it more visually pleasing for my players.
We've seen some huge Kickstarter campaigns for dice. Did those campaigns just get lucky, or did they do something right?
This is hard for me to say because when I see campaigns doing something new or unusual with dice, I'm never surprised when they go huge. However, I've also seen campaigns where the dice look like any set you could find in your local gaming store yet still collect vast amounts of funding. This has always shocked me.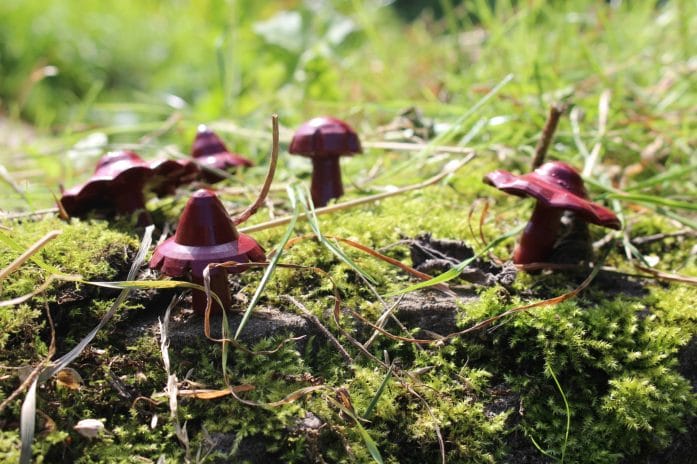 What Kickstarter lessons have you learned?
I think one of the biggest lessons I've learnt is marketing can make or break a campaign. This also poses a problem (at least for myself), as I want to put money into my marketing; however, if I had the money, I would be using it for manufacturing the dice without crowdfunding.
What's different about this return to mushroom dice?
The main difference is that I have been able to bring the price point down from my first campaign. Seeing as the whole idea came from saving money and gaming on the cheap, I am very happy. Meaning I have been able to bring the price point for one complete set down over half than before.

Now one set will cost £21 instead of the tear-inducing £55. Then I also have a few more tiers giving you more and more sets of dice for discounted prices the more you buy.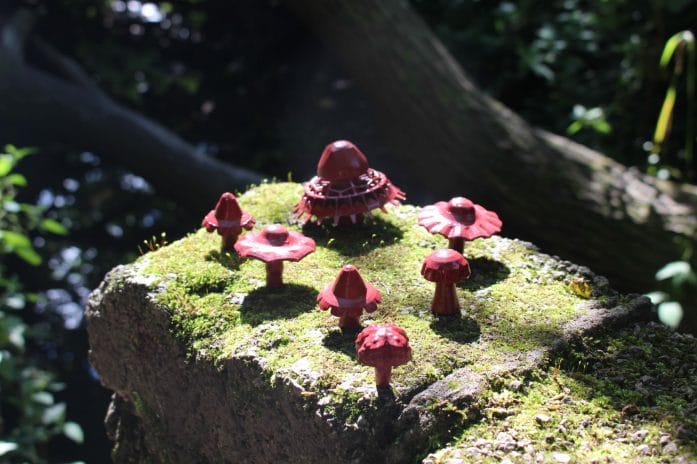 Could you design other interesting shapes that might work as well? Why fungi?
I have been thinking about this a lot. I've been trying to figure out designs that would work, look good on the table and be useful for DM's and players.

I have had many different ideas for tree designs. I have a few more ideas, but they have kinks that still need to be worked out, but rest assured, I am working on new dice! I have also started work on designing a fireplace that could be used as a D4.

I think I started with mushrooms because fungi have many interesting shapes. Also, when it comes to DnD, I think Mushrooms fit well in the world itself and with many character designs that people might have.
Are dice expensive? The prices they go for seem to vary dramatically!
I have a friend who handmakes dice @swamp_rocks on Instagram (and Etsy) who makes beautiful dice, and this is a thing I've talked about with them a few times. They are always worried their prices are too high; however, the time, materials and equipment that goes into making just one set gives it that price point.

It is also an art form, so I guess you've got to ask yourself if you were going to see a performance in the theatre and pay very little for your tickets are you expecting the show to be Cirque-du-Soliel? I think everyone is hoping to get what they paid for that it would be the same with dice.
Any dice buying tips?
Personally, when I buy dice, I just look for what I feel is a pretty or beautiful set. The most important thing should be you and your own personal feelings towards the dice.
Quick Links
Thanks for reading! Why not leave a comment below? Alternatively, if you're feeling restless you can teleport to a random article with this link!