Remember the brief hype around 3D TVs? VR won't be like that. Virtual reality is additional; it is not trying to fix something that's not broken. More importantly, VR offers benefits beyond playing games.
An often-overlooked factor in the likely rise in VR is the reduction in space. It doesn't matter how large your apartment is; if you can find a VR headset that suits you, you will be able to watch TV on giant cinema screens.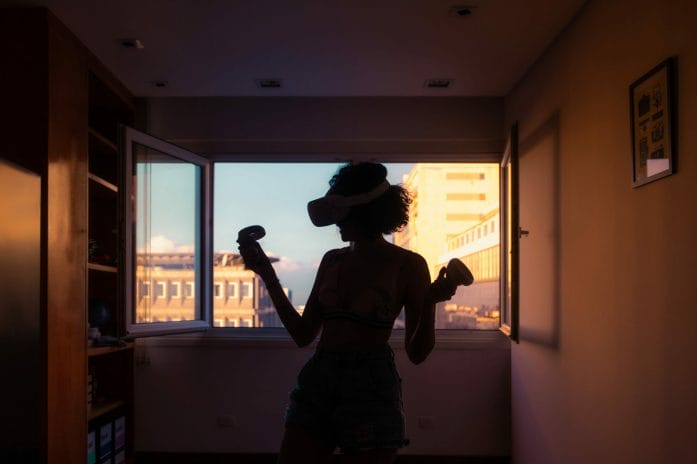 There are some obstacles to overcome first. We need to reduce the units' cost, cut all the cords, and get to a lag-free wireless experience.
This blogger doesn't have VR tech yet. Not really, nothing more than a cardboard mask in which an Android smartphone can be placed. That's a transformative experience. For those of us without VR at home, there are also VR experiences in the physical world. Locations like Otherworld in Haggerston, East London, in which you can experience a range of VR with friends.
Otherworld's Chief Creative Officer, and co-founder, Ed Wardle is also eager to point out the other benefits of virtual reality.
Contrary to popular belief, VR offers more than just great games – it is an incredibly flexible 'experience machine' that is changing lives for the better. A significant body of research now supports VR's ability to make us healthier and happier, and we are only just scratching the surface of what it can offer the world."
VR can help overcome social anxiety
Here in the UK, the NHS is offering virtual reality treatment to help patients with social anxiety. It's about the application of cognitive behavioural therapy and an immersive setting.
One example is VR's ability to have a therapist at hand to guide someone through a simulation of an environment that might cause anxiety, such as a speech, job interview, bus trip in public, getting on a busy train and so forth.
VR can help reduce pain
As sci-fi as this sounds, reseachers are finding that VR can help reduce pain.
One actual, but remarkable example, is childbirth. The first VR "enhanced" childbirth happened years go.
Erin Martucci, one of the first women to experience it, told press;
For my first birth, I did have an epidural, but I wasn't overall happy with having the side effects of the medication with my baby, because I think it interfered with the bonding experience,
VR can help battle phobias
VR has also been successfully used as a treatment for phobias. Here patients can be safely and gradually exposed to situations that might trigger a phobia in real life.
The practice has been enough use that NHS bodies such as Norfolk and Suffolk Foundation Trust have officially introduced it.
VRT, virtual reality therapy has a growing weight of cited medical journals, one of which suggests the approach was first proposed in 1992.
Reducing stress with VR
Stress abounds, and even if vaccines give us a roadmap out of the global pandemic and widespread lockdowns, we may face the new trauma of returning to work. Some people are going to work for the first time since the lockdown began, seeing people for the first time that they've only met virtually before.
Games are often used as escapism, as a way to manage stress. VR, though, extends beyond games. Virtual reality can be used to promote relaxation according to studies.
Virtual reality (VR) has been successfully employed to promote relaxation and reduce stress, and it has notably matured trough time, showing a relevant potential in improving and regulating emotional well-being..
In another paper, VR was tested on busy night-shift anesthesiologists and found useful.
Of course, there's academic studies and real-world examples. For the latter, we can check in with Otherworld again. TripAdvisor reviews give the VR experience 96% (at the time of writing) and the money-saving for families idea site LittleBird visited, noting;
From striding the earth like a giant in google earth, being a fruit slashing ninja to adventures with a tiny mouse; to fighting a zombie apocalypse in the wild west, becoming an intergalactic DJ superstar or hurling slingshots of Angry Birds, there is a game for everyone. The graphics were quite literally out of this world. You can play as many games as you like – our only complaint that you literally need more time as it is all so much fun and there is so much to do!
So, as the world spins and our reality changes, it seems likely that virtual reality will become a more extensive and more helpful part of it.
Photo credit: Vinicius Amano.
Looking for the comment section? It's just below.