The impact of COVID-19 and the lockdown has been deadly for some UK cinema chains. It won't go back to normal as some businesses are gone forever.
But what of chains like Vue, Odeon, and Cineworld? What of the industry as a whole. Can it recover?
Maths by a CompanyDebt.com, a business that helps struggling companies negotiate with creditors and manage failing finances, has suggested that there have been 13 million fewer admissions to cinemas in the UK this year.
That makes the UK cinema sector one of the hardest hit.
CompanyDebt's maths paints a clear picture. Everyone in the UK will have to buy two tickets to the movies this year. If we do that, admissions return to pre-COVID levels.
Well, it's the ticket purchases that matter, not whether you actually show up. That's not true for pubs and restaurants though, if you book, please attend.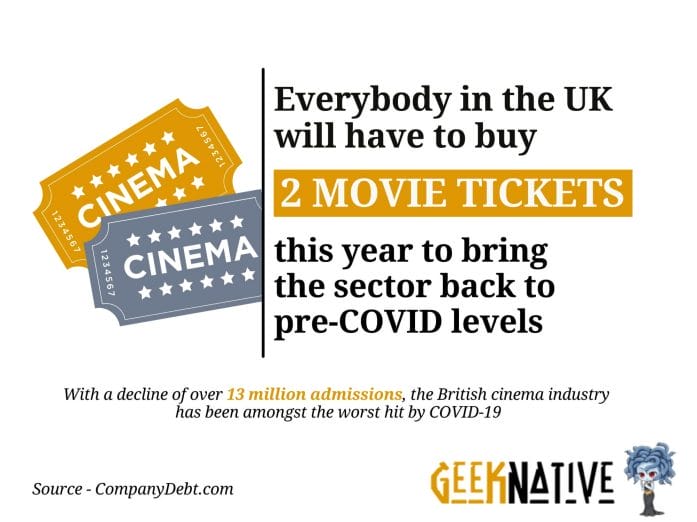 This blogger has been to two films once it was, according to local government, safe to do so; Monster Hunter and Demon Slayer (spot a trend). The cinema was virtually empty both times.
It's worth noting that the dramatic changes to the entertainment business are created opportunities for others. Amazon bought MGM for nearly $9bn in May.
MGM is the studio behind James Bond, and the latest James Bond has been pushed back twice by the lockdown and is now slated for a September release. While much emphasis has been put on the movie by the press, it's unlikely everyone in the UK will see it twice.
Let us know your thoughts in the comments below.