🐙Sponsored Post paid for by Geek Native. We may earn a commission on sales.
Do you use something other than a paper character sheet when you're actually sitting at a table to track your character's hit points? I do. Anything other than constantly rubbing and scratching at the paper will do me. Most often, I makeshift some dice into a counter.
Etsy boutique Sovriin as a better idea, and it's gorgeous too. Custom life point trackers.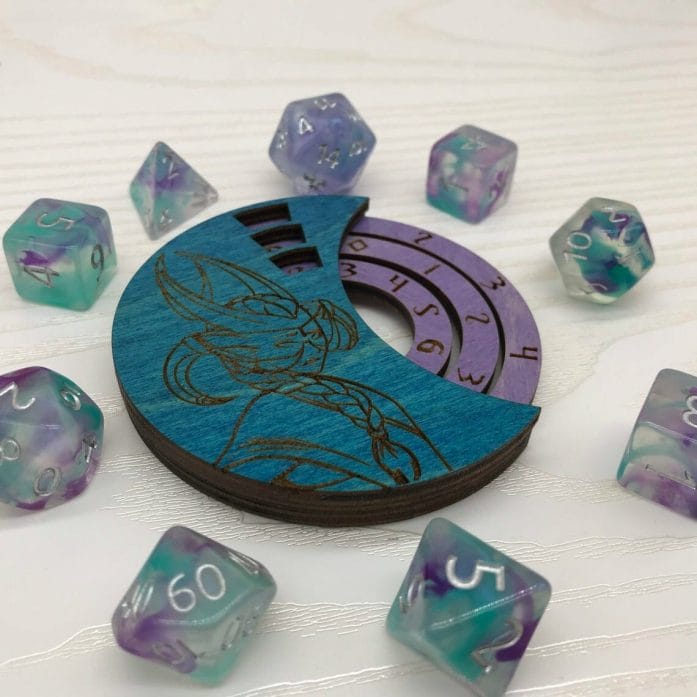 You can see at a glance how they work. The wheels turn so that you can line up numbers in the upper windows and record any value from 000 to 999.
That's the starting point. Next, Sovriin lets you sent in black and white line art for your character or a design of your choice, and that'll be engraved on the handmade discs.
Don't have any character line art? The seller will hook you up with a discount.
The discs are made from veneer plywoods, and while they come in different colours, they all use that half-moon style. There's the main colour of the outer half-disc to pick and then another for the dials.
The life counter is 8cm x 1cm, so don't take up too much table space, but it shouldn't get lost either.
Oh, and if you've an excellent memory, you might recognise the name. We've had Sovriin ideas on the blog before. At the last of 2020, there was sexy D&D stickers. Well. Kinda.
Quick Links
Share your views on this article in the comment section below.