Mara is a webcomic from Stuffed Rock. It's a story of magic, monsters, gods and follows the young Mara, a girl gifted the strength of many.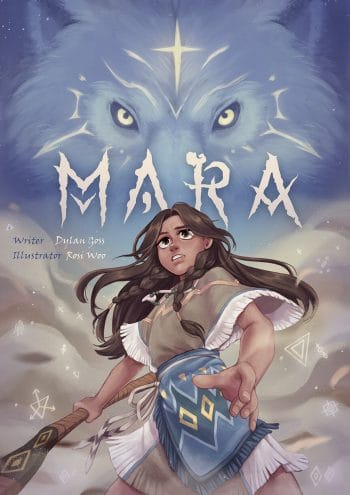 Chapter one is live, online and is part of the new wave of stories made possible by Patreon. You can read Mara for free, but talk to the creators on Discord and get extra insights by being part of the supporting community.
The plot picks up as Mara, and her father are outside their small fishing village and visiting Amaruq to leave a fish as an offering. It's a lovely family gesture which is a stark contrast to the events that unfold afterwards.
Written by Dylan Goss, a software engineer by trade, and wonderfully illustrated by Rosi Woo, the webcomic is available in different languages.
Geek Native managed a quick chat with Dylan, and I asked my usual questions about the future…
Mara interview with Dylan Goss
What do you think readers might be hoping happens in the next few episodes?
I've been doing my best to engage with readers. Some people really want to see things turn out well for the Rein. With the Txiv not playing fair, it's a popular opinion. But I gotta tell ya…
The opposite is a lot more likely.
And with your inside knowledge, do you think readers are going to be surprised?
Another thing people have been asking about is if they get to see Amaruq eat the fish. Amaruq has a much more important role to play.
When I was interviewing artists for the illustrator role, I had three people shortlisted. All three were privy to the full chapter 1 script. One of them expressed surprise at how stubborn Amaruq really was. He's charged with an important responsibility, but he's not perfect either.
How much of the world mythology have you thought out?
All of it. I think it's important to have a working knowledge of the world you're writing about. Rosi's approach to storytelling is shaped by the fact that she sees the world as a reflection of the people in it, and not just the ones on screen.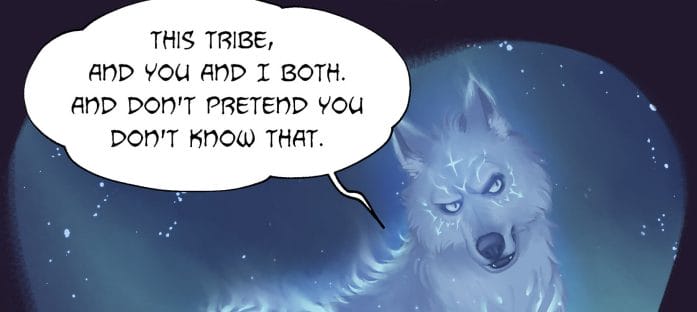 What can you tell us about it?
There are a lot of things happening that aren't explained for a while, in no small part because Mara doesn't know these things herself. 

A war between gods long before the start of the story has caused the sky to be constantly on fire, destroying the day/night cycle. This has, of course, had a profound impact on the world's ecology. It also forced Mara's tribe to change a lot in a very short amount of time. They were previously used to snow and ice. Now all they have is a river, and even that is rare in this world. 

A people's traditions are rooted in how they live, but when you're forced to change how you live, it's impossible to keep those traditions. Their traditional attire had to change, along with how they gathered food. Over generations, their language was lost, in favor of the common language of the area, in order to facilitate trade. 

At the point when the story begins, no member of the Rein has ever heard their original language. 

This is why Amaruq – which is simply the Inuktitut word for "wolf" – is mistaken for the proper name of their guardian wolf spirit. No one alive knows the language to be able to correct the misconception.
Tell us about the Rein tribe.
They take real life inspiration, from both the Inuit and Vikings. This shows in the way they dress, and the way they build their homes. Because of the way the Rein men wear their hair, it might not be immediately, but Mara is a little bit of a tomboy.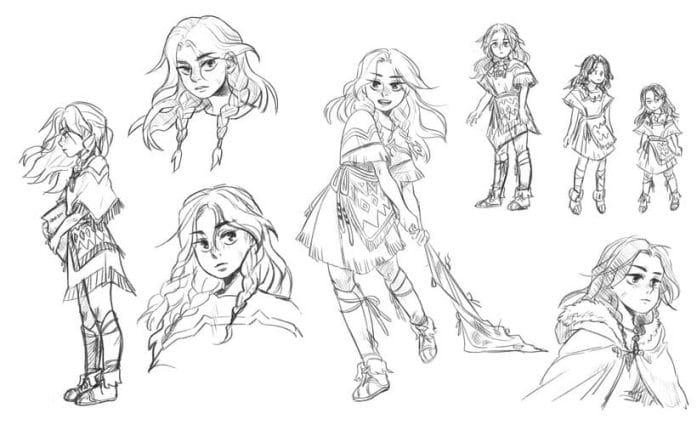 How long before Mara gets her axe?
Oh don't worry.
It's definitely coming soon.
Quick Links
Share your views in the comment thread below.