TTRPGs and Mental Health
Tabletop Roleplaying Games (TTRPGs) and mental health go hand-in-hand in today's world. TTRPGs have become a common form of escapism, a way to forget about the problems of everyday life and get into a world of fantastical lands and people.
With the ability to create worlds, roll dice, and hang out with your friends, TTRPGs has become a mechanism of positive mental health for many around. TTRPGs are being used in schools, group therapy, and constantly help facilitate both individual growth and emotional regulation skills with others. Looking into the TTRPG escapism in a positive light, we can see our friends around a table with smiles that help us get through the day.
We are gamers, we are friends, we are family.
Jasper's Game Day
Jasper's Game Day is a non-profit organization established by President Fenway Jones and her dad, Aaron Jones in 2017. After the loss of two friends within the span of 10 months to suicide, they took action, organizing an event to raise awareness and donations for suicide prevention.
That first year, they raised $8,000. Now, in 2021, in just the first quarter of the year, they have donated $75,000, helping call centers, schools, counselors, and counseling centers. They have been able to work with people such as Deborah Ann Woll, Chris Perkins, Satine Pheonix, Jeremy Crawford, B. Dave Walters, Gabe James, Shareef Jackson, and many, many more.
All of this is possible because of the 'you', the person reading this, and the actions you take to help.
Jasper's Game Week
An enormous upcoming convention from Jasper's Game Day is Jasper's Game Week. Being run from April 30 through May 10. This amazing event will house streams from teams including D&D Beyond, Paizo, and other large names in the industry, with a convention and TTRPG tables that can be joined alongside the streaming fun. Donations can be made to affect each and every stream game- with, of course, all proceeds going to Jasper's Game Day and Suicide Prevention!
From April 30 – May 10 (Streamed Games)
Jasper's Game Day will be hosting games with some amazing names throughout these days on various channels. Have you ever wanted to see Matthew Lillard attempt to play Pathfinder alongside Matthew Capodicasa of the Glass Cannon Podcast? What about Deborah Ann Woll as a Dungeon Master where you can affect the game with donations and throw chaos her way?
From May 7 – May 10 (D&D Virtual Play Weekend)
Jasper's Game Day will be hosting their yearly part of Jasper's Game Week with D&D. Names like D&D Beyond, Critical Bard, Satine Pheonix, and Deborah Ann Woll will be on stream, ready for your donations to spice up their games like none other. The games are guaranteed to be absolutely amazing and an event you won't want to miss.
From May 7 – May 10 (Pathfinder|Paizo Con Weekend)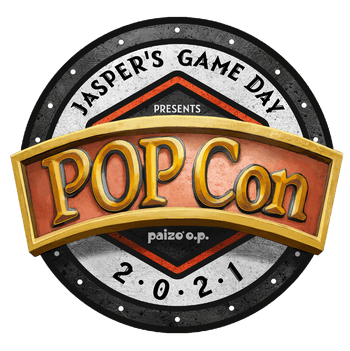 This is also Jasper's Game Day's first-ever collaboration with the Pathfinder Organized Play. A brand new convention is known as Paizo Organized-Play Convention (POPcon). There are special boons to be acquired for joining this convention. With Paizo authors running scenarios they've written and plenty of easy-to-jump-into beginner scenarios, why not come join in on the fun! Tables start at just $2.
How Can You Help?
There are plenty of ways to help out an amazing cause like this.
Spread the word! – tell people about all of this. Word of mouth helps anyone the most, and with Jasper's Game Day's push for this, they could use your help.
Donate during streams! – All of the donations will go to Jasper's Game Day and Suicide Prevention, all while affecting the games. From Wild Magic Surges to Summoning a Dragon, bring in chaos to some of your favorite streamers for an amazing cause.
Join the conventions! – Jasper's Game Day is setting up these conventions to get more people into different TTRPGs. This is a perfect time to check out games like Pathfinder or Starfinder, all while having the cost of a table ($2) go to Jasper's Game Day!
Partner with Jasper's Game Day! – Partnering with Jasper's Game Day not only allows your organization to join the fight against suicide but also comes with perks! https://jaspersgameday.com/partners/#form
Sponsor a Jasper's Game Day Event! – Help Jasper's Game Day by sponsoring an event! https://jaspersgameday.com/events/events/ 
The Future of Jasper's Game Day
Jasper's Game Week has already raised almost $10,000 as of today (April 19th) and the event has yet to even begin! But they won't stop there. Jasper's Game Day will continue to be a dedicated force throughout the TTRPG community, and the world, in their strive to fight against suicide. But they need your help! Nobody can do this alone, and we are not alone. We all have each other.
As Jasper's Game Day states:
"In reducing the stigma around mental health, we want to be able to help prevent suicide, and not just respond to the aftermath. We want to bring the community together and show everyone that they are not alone!"
Suicide Affects Us All
Looking at the CDC's latest official publishing of numbers for 2018, there were over 48,000 fatal suicides with an attempted suicide happening once every 26 seconds. Everyone is affected by suicide, and if you haven't been directly affected by suicide, you have likely crossed paths with someone that has.
Remember, if you or someone you know are thinking about suicide or are worried about someone, you are never alone. There is always someone somewhere willing to speak with you.
Suicide Hotline:
US – Call 800-273-8255 or text 741-741
UK – Call 08457909090
Canada – 1 (833) 456 4566
Australia – 131114
Other hotlines.
Remember, you are not a critical failure!
About the author
I am Stefan (Waffles) from WafflesMapleSyrup – a TTRPG Network dedicated to inclusiveness and kind hearts. I am a 30-year-old US Navy veteran who has battled with suicide in the past, who now uses TTRPGs as a way to reach out and connect with amazing people all over the world.
Not left a comment before? It'll be held in moderation until manually approved.