0one have a long history of superb cartography. I've covered them on this site back when it was known as GameWyrd and built on incredibly shonky DIY code an era ago.
It's pleasing to see 0one Blueprints in the Bundle of Holding today. There are two tiers, and the $12.95 entry-level will get you 9 different blueprint themed maps.
Let's take a look!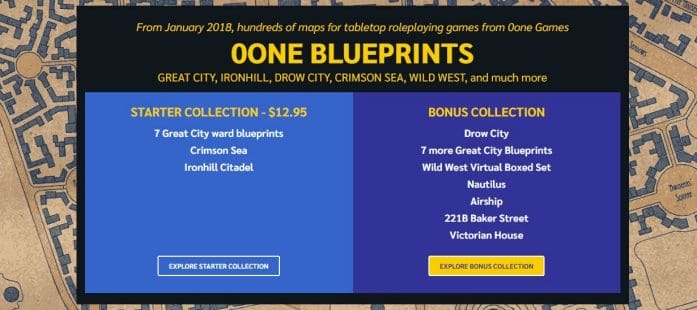 Starter Collection – $12.95
The retail value of these maps comes in at $51.50.
7 Great City ward blueprints
Crimson Sea
Ironhill Citadel
Bonus Collection
You have to beat the threshold price, currently at $25.84, but it will go up as other people pay to qualify to get the Bonus Collection. If you can find the cash, then you unlock a further $60 worth of cartography.
Drow City
7 more Great City Blueprints
Wild West Virtual Boxed Set
Nautilus
Airship
221B Baker Street
Victorian House
It's also good to report that the usual charity partner and pandemic fighter Direct Relief will benefit from a portion of sales in this bundle deal.
Quick Links
Use the comment box below to leave a helpful comment and earn some geek cred!