Mythic Table's Kickstarter promises to help integrate the open source virtual tabletop.
Partnerships with The Open Gaming Network and World Anvil will mean discounts and integration with RPG marketplaces and worldbuilding/campaign management sites.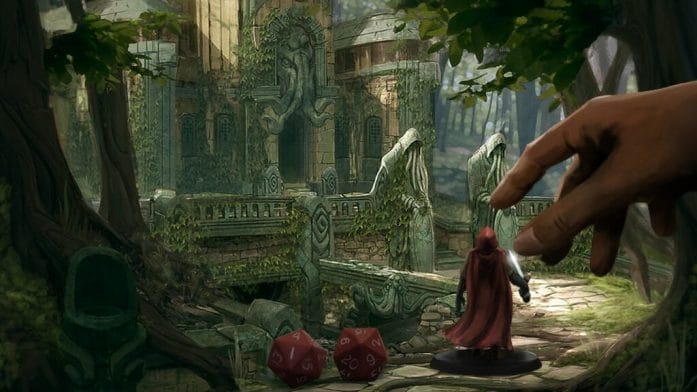 Geek Native spoke to Mythic Table co-founder Marc Faulise in the community Discord server. In the Auditorium channel, where anyone can pop in and listen, we talked about the busy virtual tabletop scene and how Mythic Table is developing from a minimal viable product to a gaming platform that people want to use.
Regular listeners of Geek Native's podcast will know that we've had plenty of speculation and discussion on the convergence of RPG marketplaces and virtual tabletops. Is this why Fandom, D&D Beyond's owners bought Fanatical? Look at how Wizards of the Coast took a multi-platform approach to D&D Celebration 2020.
The Mythic Table Kickstarter could well be a further development along those lines. Imagine online or hybrid conventions managing all the virtual tabletops needed for their event through an API and with the gaming material supplied for them managed with a DRM solution in place. Imagine the community of RPG fans, talented programmers, all contributing to this open source platform's growth. We're not there yet, but that's the path Mythic Table seems to be taking.
If you missed last night's live chat with Marc, here's a recap;
Why do you need a Kickstarter?
Marc: We're doing a Kickstarter to help us raise money to staff a couple of our volunteers fulltime. Since we are unwilling to change our business model it's important for us to use community tools like Kickstarter and Patreon to raise money like this.
Can you tell us more about plans for the marketplace and DRM system?
Marc: Absolutely! We're working with OGN to build two things. 1. Is a simple marketplace/storefront for their website that will allow users to add and sell content. 2. We're going to build a API that will integrate third party DRM into Mythic Table. This is the first part of allowing creators, publishers, artists and more to make their content available on Mythic Table and to allow them to control access.
What's the plan with World Anvil? Why pick them? Or did they pick you?
Marc: Great question! They actually reached out to us. Originally, I was a little hesitant because we were not ready to consider integration like this, but after speaking with Janet and Dmitri, I felt like I had found kindred spirits so we put our heads together and came up with a plan for an early form of integration.
There seem to be more virtual tabletops than campaign management and worldbuilding sites like World Anvil. That surprises me as I would have thought the VTT was much harder to create. Why do you think that is?
Marc: I never thought about it. Personally, I used a lot of VTTs and while I loved them and the people that made them for enhancing our hobby, I felt like no one was really doing it well. I think A lot of people feel that way. After analysing it we found that this was an underserved market. A small market with a lot of potential. This basically keeps the big players away. No one wants to invest in a long shot that has a low payoff ceiling. Too much risk. Not enough reward. So, I think what's happening is that a lot of talented amateurs are throwing their hats in the rings. Some of these guys are doing some great stuff. It's going to be interesting to see where this goes.
Is the fast-changing virtual tabletop landscape a good thing, or does it cause problems?
Marc: I think it's exciting. It certainly proves that my guess that this is an under-served market was right. I think it's great. Competition will bring out the best and I feel like that's been sorely needed in this space. As for Mythic Table, this is fine. As a non-profit we can run super lean. We don't have any investors to satisfy and none of use have quit our jobs for this. So far people have enjoyed what we've built and if we can get enough interest, we'll just build faster.
Mythic Table is a free to use, free forever, no gated virtual tabletop? I love that, but I don't understand that. Is there any evidence to say that you can run on donations only?
Marc: This is the money question. Literally. Can we do this? Well, the answer is yes. And the evidence is that we're already doing it. Our books are 100% open. You can find them on our site right now. But to summarize them, we've run a bit of a deficit until recently that our small dedicated group of Patreons have been able to cover our server costs. So, yeah, we're currently stabilizing. But the trick is that we're not staffed up. In order to build features quickly, we need to hire some of our volunteers away from their day jobs. That means we'll need more funding. If the community likes what we're doing, funding is in their hands. If not, well, we'll just go slower.
If people want to help Mythic Table, now knowing there's a Kickstarter launch due on the 30th?
Marc: Ideally, we'd want people to get excited about what we're doing and share. Understandably, that's not easy. First, they would have to learn about us and then look into us enough to trust us and perhaps even try our First Playable to see where we're trying to go. But that's a lot to expect people to do. What we really need is for the Kickstarter to get some attention. Anything anyone can do to help us get the word out is great.
Quick Links
Readers like to you help to make Geek Native. Nip down to the comments below and let us know what you made of this blog post.