Foundry is a virtual tabletop that is a little different from the likes of Fantasy Grounds and Roll20.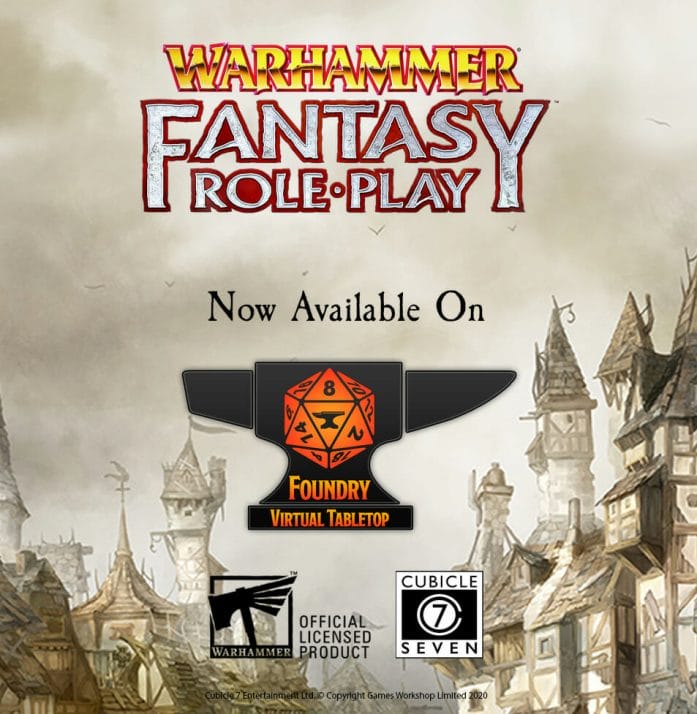 To get started with Foundry you self-host the program on your own machine and having bought it once you don't have pay for it again.
However, an optional Patreon to subscribe for bonuses and third-party service providers to run your Foundry for you.
You can now buy the WFRP core module, starter set and the Rough Nights & Hard Days for $39.99. Cubicle 7 says this is a limited offer.
The Foundry Warhammer module includes;
Warhammer Fantasy Roleplay Fourth Edition Module – The WFRP rulest, illustrations, integrated into Foundry, and searchable from within your Foundry software.
WFRP The Reikland Map – A colour map of the Glorious Reikland, the primary setting for the first phase of WFRP supplements. It includes 'pins' on all points of interest linking all information from the Glorious Reikland chapter of the rulebook and includes adventure hooks from 'Adventures Afoot in the Reikland'.
GM Screen Included – Reference the screen on a separate scene whilst also enjoying the practical tips, clever tricks, optional rules and tables from the booklet integrated into the Foundry system for ease of use! GM Booklet's tables, NPCs, and other game running advice too
Super Numerate! Automation of all things WFRP, making life easy for GMs and their players.
Quick Character Creation – Roll your character in the chat and drag the resulting info onto your character sheet.
Your Warhammer, Your Way! Many of the popular custom rules from your table, pre-programmed as playable options.
Community Developed, Officially Supported thanks to the tremendous hard work of Russell Thurman (Moo Man) we're pleased to be able to work with him and bring WFRP to the next level on the Foundry.
Foundry Powered Includes all of Foundry Virtual Tabletop's exclusive features.
You can download the module from Cubicle 7.
Are you the first reader to have something to say about this post? Check out the comments below.