I've played a short demo of Werewolf: The Apocalypse – Heart of the Forest and loved it. The full game has a planned release date of Q4 2020.
It's easy to describe the gameplay but almost impossible to convey the sense of satisfaction I earned from it.
For the most part, Heart of the Forest is like a book. You read it. It's like a choose your own adventure book, Fighting Fantasy or Lone Wolf. After a short paragraph or two, you generally have a choice to make, and those choices are impactful.
On my first playthrough of the ~30-minute demo, I never met one of the NPCs. Rather than waiting, I impatiently stormed off into the forest. Yeah, rage issues.
The first time you see that your choices have consequences is during the delightful character generation. You do not assign points to your Forest character sheet, you play through a dream-like experience. Your reactions to those events determine your initial rage, willpower and cunning.
Your actions determine your stats, but your stats also prescribe your actions.
As the dialogue unfolds and events occur, somethings happen because of your stats. For example, in my rage-filled first playthrough, I could see the rage icon appearing in the dialogue screen to indicate that new twist or development only occurred because I was so angry.
Sometimes you can use your stats to steer a different course. This is willpower.
Take my angry werewolf as an example again. I tried to be nice to people, and be calm. But that meant spending a willpower point.
Staying in character and chasing down your motivations and drives is necessary for regaining willpower.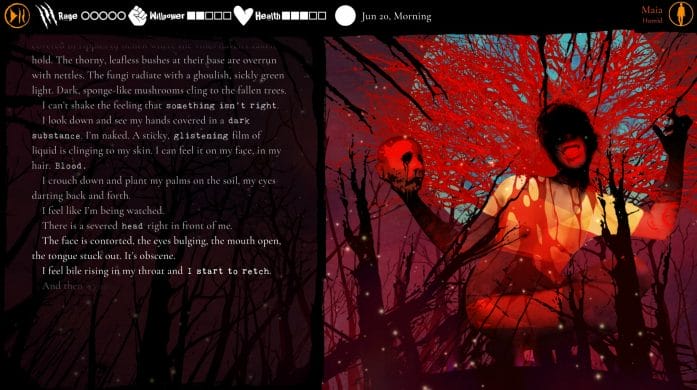 Have you ever played Werewolf: The Apocalypse with someone who says their character is full of rage but for most the game they're cool, collected and tactical? They only use that rage to turn into a combat machine when it suits them. Yeah? You can't do that in this game.
Not a book
It's essential, I think, not to undermine Heart of the Forest by giving the impression it's a book. It's a game.
The reading, usually, is confined to a quarter of the screen. The rest of the space is devoted to stylish art. The text moves too, it appears gracefully and unfolds as the story does. Different Tales, the developers, have the timing of the dynamic text spot on. In my playthroughs, I've neither been frustrated waiting for text to appear nor hurried to read before text disappeared.
And there's this.
You can explore Puszcza (the forest) however you want, in the order you wish to. The demo isn't long enough to reveal whether the order becomes important or whether the game uses other map tricks like hidden areas, reveals, locked areas, and so forth but it could.
Delightfully, there's a lot of real-life in the Heart of the Forest. Puszcza is real. Illegal logging happened there. Those barrows you can see on the map are real too. Ish. I think the real-life location is less dramatic, but it's there.
The overlap with real-life gives The Heart of the Forest that World of Darkness vibe. It's very nearly our world.
The World of Darkness
I've plenty of experience with The World of Darkness. I spent years on M*U*S*Hs, and the World of Darkness was my go-to setting, and so I can't imagine not knowing the game.
However, I suspect you won't need any prior World of Darkness experience to play through The Heart of the Forest.
Your character, Maia, has no idea what's happening to her. You'll learn as she does.
While the system feels World of Darknessy to me, mainly thanks to the willpower mechanic, at no point did maths feature in the demo. It was all automatic. If Maia was too angry to select a calm option, there was no dice roll to determine that (or it was done invisibly behind the scenes), and I was presented only with appropriate options.
Overall
I want the full game. Now!
Scroll down to find the Geek Native community comment section.