Lovecraftian horror RPGs are a dime a dozen, with the venerable Call of Cthulhu leading the pack, young upstart Trail of Cthulhu in a close second, and the rest trailing behind. This has been the way of things for years, and everyone's been fine with it.
Now, there's a new kid on the block, and he's looking to change everything.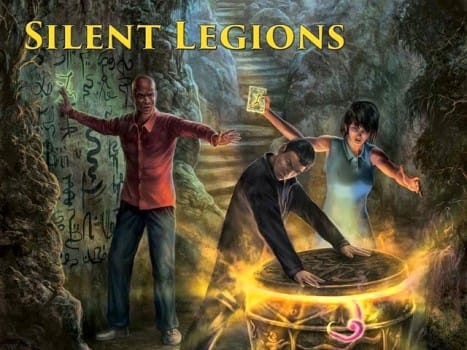 Silent Legions, the latest production from Kevin Crawford of Sine Nomine Publishing, is a modern-day horror RPG that does what I previously thought impossible: it turns Lovecraftian horror into a sandbox. For those not in the know, "sandbox" style role-playing is a structure of RPG campaign where the players largely drive the action, and the GM, rather than having a set plotline, throws together adventures on the spot drawn from detailed notes and outlines. Though this can be great fun for a traditional, swords-and-sorcery fantasy RPG, it's considerably harder to do with horror gaming, whose conventions are often centered around solving a mystery. Prior to Silent Legions, I'd scoff at the idea of such a playstyle being used in Call of Cthulhu. But somehow, Crawford pulls it off, and with plenty of panache, to boot.
He does this largely through the use of boiling Lovecraftian horror down to its component parts, putting those parts on a number of tables, and then providing guidance on how to combine those disparate parts into a complete evening of horror adventure. What's so brilliant about it is the degree and detail to which the various charts and components are outlined. Crawford starts at the very top…the Mythos itself…and works all the way down to individual monsters, with rules on making magic spells, cults, artifacts and settings (including Dreamland-style alternate realities) in between. That's right: every single facet of a Silent Legions campaign is yours to design, from the Elder Gods scheming to destroy the world, to the cultists said Gods employ. Silent Legions all but thumbs its nose at the classic Cthulhu mythos and dares its readers to make their own mythos, putting the "unknown" back into "fear of the unknown." If you're used to battling Mi-Go and Deep Ones on the campus of Miskatonic University in Arkham, boy, does Silent Legions have something for you! Within an hour of finishing my first readthrough of the book, I was rolling up a devious conspiracy of horror around my hometown of Marquette, Michigan. Showing my notes to a friend, he quipped that it looks exactly like something Lovecraft himself came up with.
The system powering Silent Legions should be familiar to a lot of hobby veterans. Firmly rooted in the "OSR" movement, Legions uses the same system found in Crawford's other seminal work, Stars Without Number. The mechanical bits look and feel like some alien hybrid of Advanced Dungeons & Dragons 2nd edition and Traveller. There's THAC0 in the combat section, for Azathoth's sake! In addition to that, there's a pretty basic skill system, special ability system, and a simple, elegant Madness mechanic that actually might be better than CoC's Sanity system. The actual text of the rules take up about 9 of Silent Legions' nearly-200 pages of content, with the rest of the rules giving you everything you need to create a cosmos of horror entirely your own.
A sub-200 page corebook may feel a little light, but Silent Legions takes its old-school approach right down to its layout and design. The art (evocative as it is) is sparse, and the thick dual-column text base can run for pages on end without interruption. Make no mistake: the system powering it may be simple, but the pervading game design of Silent Legions is deep and complex. Helpful, comprehensive examples punctuate the end of every chapter, but just getting to that point can be difficult at times, as detail after detail is piled into your brain as you read. Old-school to its core, Silent Legions is clearly meant to be learned through experience in play rather than simply reading the book cover-to-cover. This is not a game you're going to want to put on your bookshelf and read at your leisure: Silent Legions is a game that practically demands to be played. If you don't have the free time or inclination to run it, you might as well hold off on purchase until you do.
As I said at the beginning of this review, the sub-genre of Lovecraftian RPGs has been pretty rigid in its hierarchy for years. Silent Legions is about to change that. In many ways, Crawford's game out-Cthulhu's Call of Cthulhu. And even if you're a die-hard CoC fanatic, Silent Legions sandbox-ification of the genre is literally a game-changer, and can be ported to any system with little fuss. This is an absolute must-buy for anyone even remotely interested in exploring Things Humankind Wasn't Meant to Know.
(note: This review was based on the Kickstarter version of the final pdf, of which I was a backer.)