I was trying to remember the last time Geek Native featured N00b Mama, and then I wondered when the first time was. The talented artist first appeared on the site back in 2018 with a D&D mums strip. Now Kate streams, shares terrific photographs and runs a kickass Discord.
We've also got LARPer Valentine's Day cards.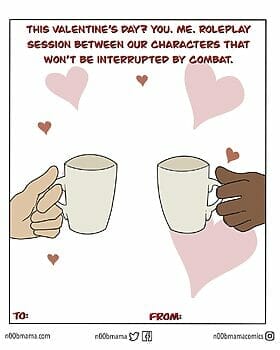 This set of funny-cos-its-true digital cards, suitable for printing, Discording, Telegramming or sending over whichever social network you fancy, was made last year and shared again this week.
I like one of the early comments on the post;
Please be aware that if you charge across the battlefield to rescue ME you will find me drinking ale with the B.B.G.
I suppose someone has to challenge the big baddie to drinking games.
Is it too late to send a physical card? It might be, but sites like Moonpig might be your best bet.
Quick Links
You can find thoughts and opinions on this article in the comment section below.