Geek Native has just shared Netflix's new Tekken trailer, and Phantom of the Idol feels like the popular opposite. Where Tekken (tries) to brood in English, with demons and angst, Phantom of the Idol is Japanese, musical and peppy.
Oh, but there is a ghost.
It's not Phantom of the Opera; it's Phantom of the Idol.
The anime is based on Hijiki ISofavone's manga series, which is on Amazon, but as a pre-order with a release date of May. The publication has been going since 2017 and now, via Kodansha, reached its fifth compiled book.
Here's now the publisher describe the story.
Yuuya, one half of the boy pop duo ZINGS, may be the laziest performer in the Japanese music industry. His partner is out there giving 110% every night (and, thankfully, he's quite popular), but Yuuya's half-assed, sloppy dancing, and his frankly hostile attitude toward the audience, has the fans hating him and his agent looking for any excuse to cut him loose. The career of a pop idol just isn't the path of easy leisure and adulation Yuuya expected…


After a particularly lifeless concert appearance, Yuuya meets a girl backstage. She's dressed to the nines in a colorful outfit, she's full of vim and vigor, and all she wants from life is to perform. There's just one problem: She's been dead for a year. This is the ghost of Asahi Mogami, the beloved singer whose time on the stage was tragically cut short, unless… If ghosts are real, is spirit possession really that much of a stretch?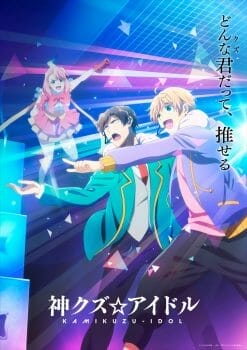 Two members of the boy band and perhaps only one of them can see Asahi as there are two promotional posters for the series. Sure, these are similar posters but there are no prizes for spotting the difference!
Via Anime News Network.
Brave explorer? Follow this link and you'll discover a random page on Geek Native.