There's a 5e publishing company run by an ex-Military Intelligence Analyst with two degrees and for whom the likes of James War and Skip Williams have written.
Sound interesting? Good! As voted for by Geek Native patreons the winner of the May RPG Publisher Spotlight is Tacitus Publishing. If the name reminds you of the great Roman historical, then you're spot on.
Geek Native reached out to James S. Austin, the company's owner, and James kindly found time for a Q&A interview.
An introduction to Tactius Publishing
When I reached out to James, I had no idea what to expect. It's not always straightforward tracking down winners of the RPG Publisher Spotlight, as you can't nominate yourself, and people are understandably cautious about being too easy to contact online.
I got a good vibe from James straight away, with a quick response and articulate enthusiasm. It was only later that I found out about his training. Here's the question I started with;
Who is Tacitus Publishing?
The canned answer is we are a small company that focuses on Dungeons & Dragons 5th Edition products. This will hold true only for a short time more as we branch off to grab onto other projects and angles, to include offering Pathfinder 1E and 2E conversions, Call of Cthulhu, and anything else that grabs our attention. This is more driven by passion than the dollar.  

The short answer, though… I am. Tacitus started as a single-celled organism, built on the things I found important to the legacy to be left behind. I say that because I have always enjoyed the classics in art and literature. So, I wanted to work on projects that have more a grounded sense of 'the human experience' in a fantasy setting and artwork that breaks some of the trends of tight and clean, not to say we shy away from tradition.

But as all things must grow to succeed, and my desire to reach into the roots of Dungeons & Dragons, I have been building a small stable of freelance writers and artists to whom I reach out to for certain projects. This has resulted in making connections with freelancers currently building their portfolios and 'old guard' writers and artist. This is the most exciting part of the process of building an empire, finding likeminded people and talking with writers who I have 'met' long ago through their work in previous editions. As of right now, of the published works under Tacitus, we have James Ward and Skip Williams. But the list will quickly expand as I wrap up the projects in the pipeline.
James Ward played D&D with Gary Gygax, wrote for the game with TSR and designed the Dragon Ball Z Collectible Card Game. Skip Williams co-created D&D 3.0 and was the voice of Sage Advice for many gamers.
What's your origin story?
This will sound familiar, but I started back in the late 70's as a child. My parents played 1st Edition/AD&D here in Florida, friends getting together and exploring giant dungeons, and such. I was the pesky rug rat that stood at the table annoying everyone. Then, when I showed enough patience and aptitude, I was allowed to join for special occasions. This was about 1980, at 8 years old. By then, I was creating my own dungeons on graph paper and creating all kinds of characters. My bedroom floor would be covered in papers and books, scratching out sprawling caverns and hand-drown towns for the messy world fumbling around in my head.

The following years were a blur of building blocks that created the base of Tacitus Publishing's core philosophies. I spent five years in the US Army as a Military Intelligence Analyst, with Special Forces as one of my assignments. Then, I completed two bachelor's degrees, in anthropology and history. I focused on the ancient and Medieval time periods, which is an easy guess if you knew me. This expanded my knowledge on cultures and understanding the concepts of worldbuilding. I sometimes picture it similar to the way Traveler builds a new character… if I remember it right.  

In 2009, I launched the company as I was building out a wiki-ish website for the campaign setting, Chronicles of Ballidrous (as is typical of many indie companies, having their own setting). For the company name, I could think of nothing better than using a renowned historian's name to cement the foundation I have been working towards. So, the Roman historian Tacitus seemed an obvious choice. And at that time, with 4th Edition the current iteration, and after becoming familiar with its design, I had to pass on the creation of OGL products with that particular design concept. It lacked that connection to the previous editions I needed to feel comfortable. But I had plenty of ideas to work on before feeling the need to start a pipeline of products.  

With 5th Edition's release, the moment had come and here we are.
What does Tacitus do?
Regular readers of RPG Publisher Spotlight interviews will be able to predict the next questions. Sometimes, I find, a way to get to know a publisher is to encourage some introspection and ask them what others might think.
I think that approach works here. What does Tacitus do? Humility, it seems.
What do you think you're best known for?
At this point, not too much. Honesty hurts, LOL. We are growing and the products being released are piling up. As highlighted earlier, Tacitus has been fortunate to have powerhouse writers work on projects. I can tell you our catalog of Forgotten Realms: Dark Times is about to go big. We have some familiar names included in these coming releases. And I have another line of new school/old school blended product line called Hexagon Adventures that will shock many with the contributors involved. The first one is the launching piece and sorta the base model to work from – The Prairie of Many Faces, and releases this summer. The one name I will drop, which is a proud moment for a fanboy, is Jean Rabe. She wrote the accompanying short story for the second release – Tevel's Fen. For a plug, she is great, and you should check out her current novel releases. She is still hot at the keyboard pushing out fantastic stories. So, if anything, we might be known for pulling in some of the original designers from the TSR era.
What would you like to be best known for?
Even though a simple question, I have a quixotic ideal for a response. At its core, I would like to see Tacitus Publishing being known for great products that blends the aspects of classic literature with traditional fantasy role-playing. And another key piece, I want to include the 'old guard' from the earlier editions so that they don't fade too quickly away… or dismissed for their past contributions that made all this possible.

On the backend, for artists and writers, I encourage them to explore their ideas and then push them a little further if needed while paying a fair wage. This includes people on the fringes of the design world, or never having written something, who show promise. There is nothing more gratifying than putting a name on the front of a product and it be their first one published.  
How does your Guild system work?
The Guild was built for the local gamers as I was deeply entrenched with a game store. On an average Saturday alone, we had 40 to 50 players involved in an Adventurer's Guild. Run like the Adventurer's League to a degree, where we monitored character growth and had regular DMs post short adventures in a closed setting. The players would choose off an adventure board for that event time. So, to include the weekday's games, we averaged 12 games a week, on the average. The community was terrific and filled with people who helped to make the Guild possible. Unfortunately, this has faded away until things get back to normal.
Tacitus' products
I had nosed around Tacitus' catalogue before asking any of these questions. Although I wasn't sure how James would answer when asked about the company's games, I had noticed some titles.
In fact, that I was able to browse a catalogue caught my attention too.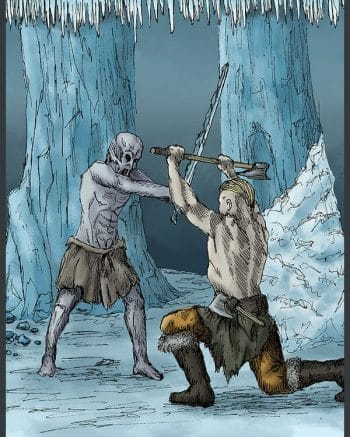 What's Q-Encounter?
A Q-Encounter is a what we call a Quick-Encounter. We have a line of products in this stylistic design: Q-Crawls, Q-Adventures, and Q-Towns. These products are meant to be dropped into a campaign when needed, presenting a crafted encounter with some depth and little prep. I try to make sure each one has something more to offer the DM and the players, hoping to leave an impression and a fond memory. 
What makes a good RPG?
I am from the crowd that says nothing and everything. For me, it is about the time spent with friends. As long as someone is familiar with the rules and can pull everything together, and fun is had, you win. I really do not care if you need crunchy rules or loose narrative, as long as the 'contract' made between the game master and players is adhered to, knowing what the RPG offers, you cannot go wrong.  

As an example, I ran 4th Edition D&D for a couple years for various small groups. It was the people and the story that made the time enjoyable. We knew the battle mechanics fell towards a board game experience, but no one walked away from the table disappointed.
You've got your own webstore. Is that a big messy overhead for an indie publisher?
That is my trick, I do it all. I am a writer, editor, artist, graphics, web design… the kitchen sink. This forces me to manage my time closely but saves a ton when I need to watch the spending. Budgets for indie publishers are 'messy' and slender for most. I cheat here. I hire to free my time or when I see a piece of art I would like to license. In fact, I used the stimulus money to increase my budget, thus putting the funds into other writers' and artists' hands who need it more. So a webstore is more about the time loading products than the fee to have it active. There is a bit of comfort having one available even if it is a secondary resource in these earlier stages of a publisher's life.
The future of Tacitus Publishing
We've been teased with some potentially big news, and certainly with exciting plans. I wanted to hear more.
What can fans expect from Tacitus Publishing in the future?
The future is the brightest and most exciting part of this publishing game. We have so much in the pipeline, and it continues to grow at an enormous rate. We have the launching of several projects in the near future: the Hexagon Adventures line, a junior line of adventures titled Whistlehaven, and the second wave of the Forgotten Realms: Dark Times line. This is just the start.

A brief rundown:

Hexagon Adventures combine old school exploration and random encounters in a designed and themed setting. Each is tailored to something like 'sword and sorcery', 'horror', or 'island hopping on the sea' with an attached short story from some great authors, most from the TSR days.  

Whistlehaven is a product line built with the youngin's in mind, having quick and easy adventures for kids.

Forgotten Realms: Dark Times currently adds to the Thesk region with the Quick product line and will be expanding on the local races and several highlighted setting adventures. Just like Dark's Pandemonium Carnival, we will be traveling to other not so well-known lands after Thesk.
Tacitus Publishing
Latest Tacitus Publishing Products
While Tacitus Publishing has its own store, the company is also on DriveThruRPG. That's handy if you have credit or vouchers there. It's also from DriveThruRPG that I can determine recent changes (likely additions) to the catalogue.
Are you the first reader to have something to say about this post? Check out the comments below.