Good TTRPGs pick up and throw you into a new headspace, often in the same way that a good song does.
Maybe that's why there's been a surge in games that draw inspiration from music.
Recently, I took a deep dive into indie games with music at their core. It's a theme that's inspired everything from microgames to full-length systems. These are a few of my favorites.
GIX Games' Velvet Generation is built around the communal experience of making music and the power it has to fuel rebellion. It draws heavily on punk and glam rock, especially the music of David Bowie. Players become the Starchildren "waiting in the sky," absorbing Earth's music from radio waves across the galaxy.
But by the time the Starchildren finally arrive on Earth, a despotic government has banned all but state-sanctioned music.
Though it does have more traditional combat elements, Velvet Generation's main mechanic for conflict resolution is the battles of the bands. Players can steal from a shared dice pool to grab the spotlight and glory or sacrifice fame and fortune for the good of the band by contributing to the same pool.
I playtested Velvet Generation at Metatopia when it was still in beta, then later at Gencon in a more finished state. The battle of the bands was the real highlight of the game. It's fully funded on Kickstarter, in the final stages of production, and absolutely worth keeping an eye out for.
It's in the weird and experimental world of microgames, though, that music-inspired games really shine. Game jams like Riley Hopkins' yearly Record Collection have spurred creators to embrace the weird and wonderful.
Corvyn Applebey's Pull Me From The Earth, a game inspired by the music of Hozier, contains one of the most wild things I have ever seen in a game.
At the very beginning, both players place their hands in a bowl of muddy water to simulate finding a bog mummy in a shallow pool. The game builds a deep sense of intimacy between the two players using a just deck of playing cards and a set of prompts. It completely encapsulates both the sense of longing and macabre tone of Hozier's music.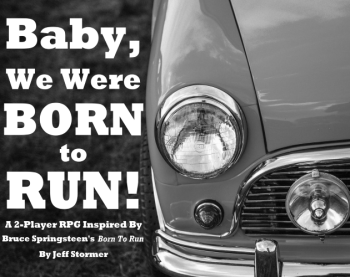 Another game that captures the spirit of its source material is Jeff Stormer's Baby, We Were Born To Run.
The central tension of the game is the paradox found in many of Bruce Springstein's songs – a desire to break free from your small town versus the love you feel for your home.
One player takes on the role of "The Driver" who wants to run and the other is "The Passenger" who wants to make a stand against the thing that threatens their hometown. The players build hands from a deck of cards, and in the end, what they're dealt decides whether they will stay, go, or drift apart to make their own way.
If you're a player who enjoys experimental games or games with novel mechanics, music-inspired TTRPGs are something you want to look into.
What songs would you draw on if you were to make a music game? What song would you most like to play a game based on?
About the Author
Melissa DeGenova is a fiction writer and game designer. Her first game, Brothers in Arms: is a two player RPG about war, friendship, loss and love in which players craft a shared backstory before one dies in the other's arms. It's inspired by the music of Dire Straits and the song by the same name and is available on itch.io.
Quick Links
Take part in the Geek Native community by sharing a friendly comment below.